"Path to Career" contest for specialists with disabilities was held in Voronezh on Tuesday, May 29. 13 citizens aged from 22 to 39 years took part in it. The contestants' performances were evaluated by representatives of state services and business. The jury watched the participants during the team business game, which made it possible to reveal the participants' leadership qualities level.
The competition demonstrated to the employers that the labor market had young enterprising, professionally trained and talented people with disabilities who are not inferior to people without disability in terms of their level of knowledge, the event organizer, head of the Regional Training and Resource Center "Accessible Environment" Alexander Popov said. In the final, six contestants were invited for interviews at municipal and commercial organizations.
RIA "Voronezh" journalists asked five bright finalists of the contest to tell about their lives and what helps them to be optimists even in the most difficult situations.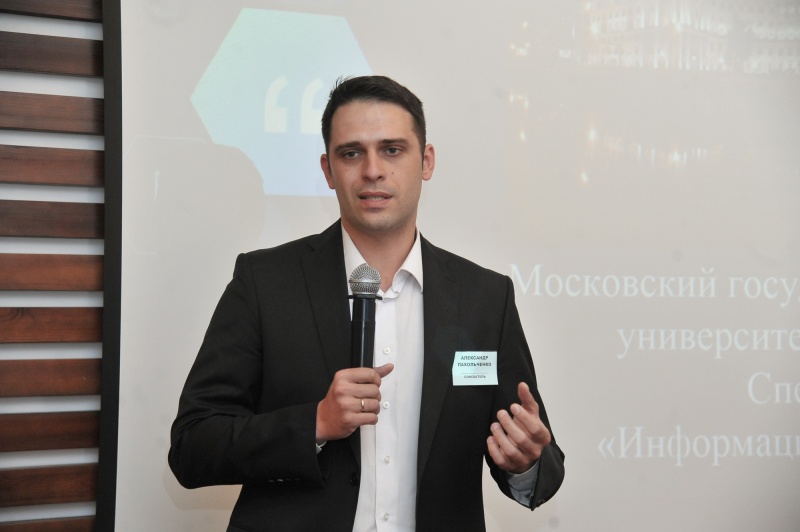 Alexander Pakholchenko, 29, winner of the contest
Disability: hearing-impaired.
Education: Bauman Moscow State Technical University. 
Major: computer science and management systems.
Desired position: data security specialist, programmer.
- I can hardly hear, but I read lips and I can answer the questions with my voice. It is very difficult to find a job to hearing-impaired. Employers always require that the applicant for the position be able to talk, even for those positions where this is not important. For example, I work with computers. A graduate of the famous Baumanka, about which people say that it is very difficult to enter there, but even more difficult to graduate from it. In my job, it's important to be well-versed in computer, because you can communicate with the management and your colleagues online with the help of instant messengers and social networks. But, unfortunately, in many companies you need to communicate with your voice. After receiving my diploma, I couldn't find a job for a year because of this requirement. During the last four years, I have been working in the Educational Laboratory of a Voronezh university. I am engaged in the administration of equipment, work with servers, anti-virus protection, computer assembly. The job is good, but there is no career growth. You can make a career there only if you teach, but for me it's impossible – I cannot hear well. Another reason why I'm looking for a new job is a baby in our family. My wife is on maternity leave, so I want to find a higher-paid job.
I am a responsible, punctual and non-conflicting person. I am hard-working, grasp new knowledge quickly. I would like to develop in two directions: programming and rock-climbing. Why climbing? This is sport, and sport is health, that is, the most important thing that a person has.
Maxim Naton, 35 years old, second place in the competition
Disability: a wheelchair user due to a spine trauma. He has a driving license, drives his own car.
Education: Donbass Institute of Technology and Management.
Major: Economics and Management.
Desired position: marketing and advertising manager.
- Everyone has his own destiny in life. I understood what I want to do as a child. I was always interested in Economics and Advertising. But ordinary school did not give the knowledge that I wanted to have, so after the ninth grade I entered a Vocational School with economic bias. While studying there, I wrote a scientific paper to the Small Academy of Sciences on the subject "Advertising is the Engine of Commerce," which gave me the opportunity to become a member of the Academy. I entered the university and being a first-year student I opened a computer store. This experience made me understand what starting a business from scratch is. After studying at the university for three and a half years, I had an injury, which interrupted my education for several years. But life goes on. I just started it again. After four years of rehabilitation and searching for a job, I decided not to wait to be offered, and establish your own business. I developed my business for eight years. I was engaged in polygraphy, SMM, creation and administration of web sites, shot and edited films, videos, commercials.
In 2014 me and my wife moved to Voronezh. For two years, I had worked as the deputy head of the department of marketing and advertisement of an internet store. But life goes on; one needs professional advancement, so I'm looking for new work which would be interesting for me. I'm used to pursuing the goals I set and setting new ones, to never stop at the results I've achieved. In the future I see myself in a large company where my professional experience and education would come in handy. I live an active life. I consider my trip to the skypark in Sochi where I made a bungee jump (jumping down from a tall structure with a large elastic cord attached to the person – RIA "Voronezh") from 69 meters my achievement. By doing that extreme thing, I've proved to myself that I'm capable of anything.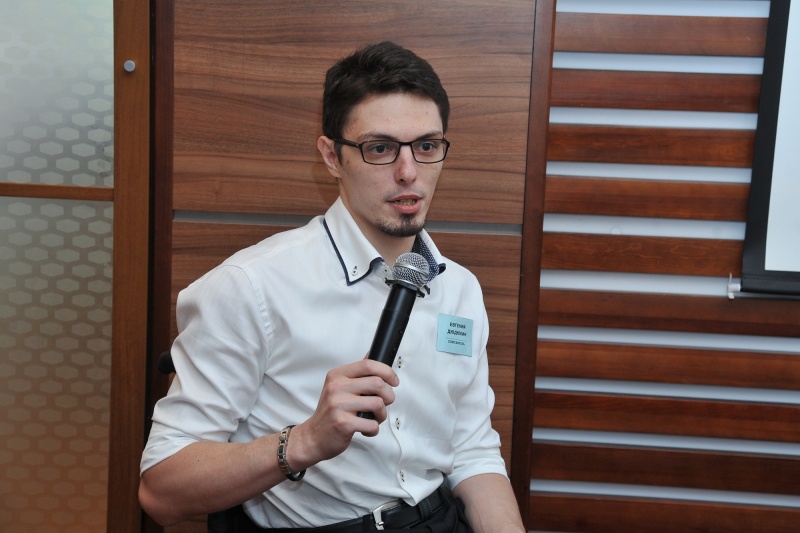 Yevgeny Dyudyukin, 28 years old, the third place in the contest.
Disability: uses a wheelchair due to a spine trauma.
Education: the Voronezh Institute of High Technologies.
Major: information technology.
Desired position: web developer.
– I think that the future belongs to information technologies, which is why I chose this specialty for myself. There are infiltrating our lives and the very common things deeper and deeper. A smart house is no longer a fable of science fiction writers but a reality. After graduating from the institute, I looked for a job in accordance with my specialty. I managed to find a job as an administrator of an internet store. The work wasn't hard but it implied serious responsibility. You need to always keep the merchandize catalog in a relevant state, answer the customers' questions, monitor the activity level of social networks. But I'm still more fond of creating something, which is why I'd like to get a job as a web developer. I'm into intellectual games. It requires teamwork where the result depends on each team member. They teach you to work in a group, improve your erudition and inventiveness. A year and a half ago scuba diving for the disabled emerged in my life. Now it is more than a hobby to me but a true sport, participation and victories in international competitions. The underwater world is like space. Words cannot describe even half of the emotions I feel while under water. It's a feeling of flying. When ashore, I'm tied to the wheelchair, but under water I'm free, I swim where I want to without the wheelchair that has already become a part of me in 17 years.
Anton Belkov, 29 years old, won the people's choice awards in the contest.
Disability: multiple sclerosis.
Education: The Tula State Pedagogical University.
Major: religious studies.
Desired position: event host.
– I like performing in public, making people smile, creating a pleasant atmosphere of a heartful event. I like when people laugh, even if they laugh at me. In moment like this I see the point of what I do. Ten years ago, when I learned about the peculiarities of my body, I started valuing life even more. I've been fond of performing before an audience ever since I was a child. In my kindergarten and school years I used to act in plays. In the summer camp I took the first place in the acting contest. While studying at the university, I was a member of a KVN team. In 2008 I became obsessed with playing bass guitar and started practicing around the clock. After a year, the disease made its presence felt. It began with limping, then my vision started failing, then I started having trouble speaking. But it didn't keep me and my friend from creating a band a entering the finals of a youth festival. At that point my fingers began failing, so I had to take a great dosage of medicine to finish the job. We ended up in the top-three of the best bands.
I wanted to live an active life and did all I could to for it. Among other things it included a 21-day starvation diet, a surgery. From time to time I cruise around towns and make candy floss in the streets at the same time sharpening my skills of public performances. While making candy floss, I come up with slogans: "Candy floss to be the boss" or "Life is good in a candy floss mood". It may seem that I'm a strange person. And that's true. I have a credo: if I see the goal, I don't see the obstacles. I try to find something good even in bad things. I broke my leg, but I didn't waist my time. While I was in a in a plaster cast, I took a professional event host course. As of yet, I've hosted 30 events for children and adults.
I consider meeting my wife a miracle. My wife is my partner. She has great work experience in the event business and implementation of large concerts and festivals with an audience of up to 100 thousand people. I'm confident that together we can accomplish anything. After all, we both love life and try to spend every minute of it with use.
Darya Sadchikova, 25 years old, the finalist of the "Path to Career" contest.
Disability: cerebral palsy.
Education: the Voronezh State College of Industrial and Human Sciences.
Major: social care teacher, kindergartener.
Desired position: inventory accounting specialist.
– Since I was a pupil, I thought that working with children was my calling. I used to be a youth leader at school. My grandfather and grandmother were teachers. In college I was an active student, I took part in various events and science conferences which gave me invaluable experience of public performances. My research in inclusive education for children won the regional "Talented Youth" contest. I'm proud to have my name included in the "golden" list of student of my college, I was added to it as one of the best students who graduated with a degree with honors. I had work practice in kindergarten while studying in college. I taught children to play games, had them learn song, played action-oriented games in the open air.
After graduation I was invited to work in the kindergarten, but when I was having medical exams they told me that with my disease I'm not allowed to work with children. To say that it was a blow for me is to say nothing. But there's no use crying over spilt milk, so I started looking for my place in this world in other fields. I took a computer operator course, I'm educated in inventory accounting. You may wonder how I work on a computer with such an arm tremor. I'll tell you that I've typed graduation work on a computer by myself as well as the presentation for this contest. I type quite fast. I also took an English course. My dream is seeing other countries. So I learned the popular English language in order not to be a black sheep that no one understands.
RIA "Voronezh" note for information
"Path to Career" contest has been held in Moscow, St. Petersburg, Nizhny Novgorod and Novosibirsk since 2007. In Voronezh the contest was held for the first time in December of 2016. The purpose of the event is giving companies an opportunity to pick young qualified specialists among people with disabilities for work practice and employment. In Voronezh the contest is organized by Regional Education and Resource Center "Dostupnaya Sreda" (Accessible Environment) with support from regional public organization of disabled people "Perspektiva" (Perspective).
The contest consists of two stages. During the preparatory stage, the participants faced a series of training and educational courses from major business coaches – in making a job resume, taking a job interview, adapting to a new work place. In the finals each participant prepared a presentation in which they told about their professional qualities, about what they wanted to achieve in life and in which field they wanted to find a job. The participants had to honestly tell about their disabilities, skills and abilities.
Загрузка плеера
© РИА Воронеж