From January 1, 2020, the law on organic agriculture will come into force in Russia. It establishes the concept of "organic" and requirements for the production, storage, labeling and sale of such products. As a result, unscrupulous manufacturers who play on the names, calling their product "bio", "vegan", "green", "eco", "natural" should leave the market. Only one word will be applied to organic products - "organic", which will differentiate this product on the shelf and eliminate counterfeit.
Whether Voronezh agricultural producers are ready to develop organic farming, what distinguishes an organic product from a natural one, and how much a carton of organic milk will cost – read in the RIA Voronezh material, prepared jointly with the Doctor of Agricultural Sciences, Professor, Head of the Agriculture Department of the Voronezh State Agricultural University Anatoly Dedov and experts of the Agri-Food Forum held in Voronezh on April 4.
What is an organic product?
According to GOST 33980-2016, organic products are products of plant, animal, microbial origin, as well as aquaculture in natural, machined or processed form, used by humans for food. Organic products also include animal feed, planting and seed material received as a result of production certified for compliance with the standard requirements.
Organic products are considered products, which cultivation did not use mineral fertilizers, synthetic pesticides, herbicides, hormones, GMOs. Antibiotics, feed with hormones and genetic engineering are prohibited in animal husbandry.
– In Europe, organics has been actively developing since 1982, and Russia started it only in 2007. Of course, we are late. However, our advantage is that we have so many resources, thanks to which we can not only quickly catch up, but also overtake Europe. To do this, we need to change the attitude of people towards organic products. There is a misconception that organic products are for people with a fat wallet. This is absolutely not true. The main consumers are young families with children. Another mistaken opinion of Russians is that organic products are produced exclusively for healthy nutrition. Consuming healthy food is not enough to be healthy: the ecology should be good as well. When we combine these two concepts, we will become similar to Europeans, said Oleg Mironenko, Executive Director of the National Organic Union.
Why an interest in organic has appeared?
The market of Russian organic products is one of the most rapidly developing in the world. Organic consumption in Russia is growing by 10-15% annually. The production growth lags behind the consumption growth.
– If earlier, consumer countries produced organic products for themselves, and they had enough, now they do not. What is more, the need is growing. Therefore, attention has emerged to those countries that have the resources to produce organic products – clean water, clean land, clean air. In Europe, finding such territories is problematic, while Russia has them. However, the conditions for the establishment of organic production haven't appeared yet. This is a good opportunity for a startup: if Russian manufacturers are engaged in this, we will be able to conquer a sufficiently large volume of the world market, Oleg Mironenko is convinced.
However, Russia can turn into another raw materials appendage.
– The European market is waiting for us with raw materials, but no one is waiting for us with finished organic products. There are two reasons: we still do not know how to sell organics as good as oil and gas. And secondly, we do not believe in the product that we produce, so how then will foreign partners trust us? Europe is ready to consume raw materials several times more than Russia can produce. However, our organic products market is in its infancy and few manufacturers risk entering it. Therefore, it is important to launch legislative acts that will allow producers not only starting production of organic products, but also making money on them, the expert believes.
Why is this segment interesting for the Voronezh Region?
The Voronezh Region has a large area for arable land, and most importantly, it has a large market with a high demand for such products. In addition, there will be new jobs for residents of remote villages.
– The production of organic products requires certain assets. First of all, the land that has not been used for at least three years. We have such lands, but they are in an extremely neglected state, they have already become covered with coppice. The second necessary asset is people. It so happened that most of the land suitable for organic farming is located in depressed areas. The production shall be organized in such a way that it becomes attractive for workers. The third aspect is that a real master of the land is needed, said Alexey Alekseyenko, Rosselkhoznadzor Assistant Director.
What are the requirements for organic producers?
A farm engaged into organic plant growing, animal husbandry, beekeeping, as well as organic cultivation, breeding or maintenance of aquaculture objects, should be far from the sources of environmental pollution, industrial facilities, areas of intensive farming. The company must be separated from any other production facilities that do not meet the standard requirements. To limit the ingress of pollutants from areas adjacent to the farm, the barriers and buffer zones are used.
What are the principles of organic farming?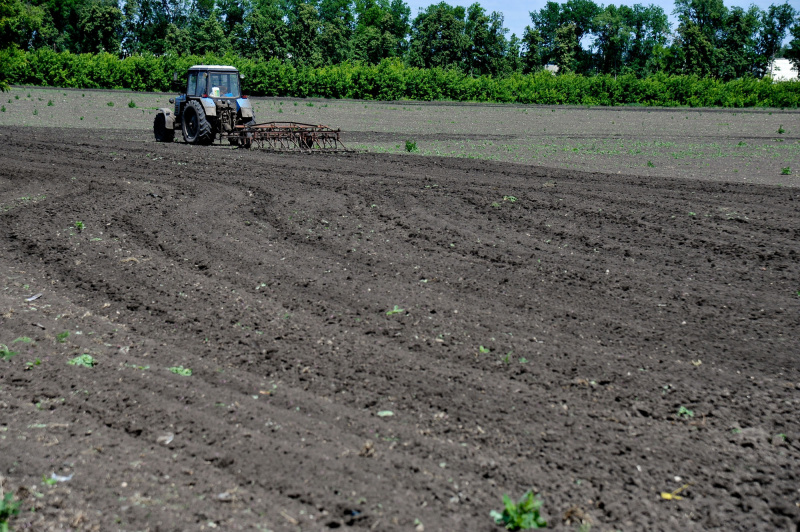 The organic farming is based on the cultivation of perennial legumes and leguminous crops. Therefore, it is necessary to include the crop rotation of these crops in the sown areas structure, which will provide plants with nitrogen due to its fixation with nodule bacteria.
The soil is most often cultivated with a plow to create optimal conditions for the growth and development of cultivated crops, and the elimination of as many weeds as possible.
Varieties shall be resistant to weeds and diseases. They shall require less nitrogen. Seeds for planting should be high quality, with good germination, spread and survivorship rate. Seed material for organic farming, approved for use, is subjected not only to mandatory testing, but also to additional analysis. This includes, for example, the so-called "cold test", when germination is tested under adverse conditions (10 degrees, soil from fields). Compared with the traditional test (20 degrees, sand or filter paper), it is possible to identify possible diseases earlier and eliminate the corresponding lots of seeds.
Only organic fertilizers received from farms within organic cattle production are allowed. If manure is received from intensive farming, it is prohibited to use it.
What innovative technologies are used in organic production?
It all depends on the economy. If the company has the resources and experienced professionals, then any technology can be used. However, you need to understand: with intensive technologies, mistakes can be corrected by the use of mineral fertilizers and pesticides, but organic production does not allow this.
– In the organic industry, you cannot be successful without scientific support. If you use biological protection of plants, intensive tillage technologies, the basic certification provided by the state will be enough. If we are talking about organic farming, then the organic certificate must be attached to the basic certificate. Organics and bioprotection are high technologies dealt by professional personnel. The transition to organic farming is expensive, the producer needs to be prepared for this. The soil should restore the ecosystem for a minimum of three years, and only then the payback will start, Angela Asaturova, Acting Director of the All-Russian Research Institute of Biological Plant Protection, warned.
What industries have the highest profitability?
This question is difficult to answer so far. The market determines the supply and demand for certain products, but it is still poorly developed in the Voronezh Region. Organic animal production is in demand now – meat, milk; plant growing – millet, buckwheat, oats, peas, corn. As the market develops, there will be a demand for some other products.
– Now we are developing the first ecofarm with 5 thousand hectares in Divnogorie, Liskinsky District. The farm will be engaged in livestock, produce organic milk and meat. We tried to organically grow buckwheat and millet for export in 1996; no one then thought about the domestic market. But the Chinese began to sell grain cheaper and forced us to quit in three years. Organic production is developing poorly in Russia due to lack of experience and knowledge. There are few such specialists even within our company. Otherwise, we could have competed with the West. Even more so, the prices for the purchase or lease of land, for diesel fuel, are much lower in Russia than in Germany, said EkoNiva President Stefan Dürr.
For who is it easier to be engaged in organic production – large companies or small and medium enterprises?
It all depends on the field – what products it wants to produce. If vegetables, it does not need large area. If products are going to be grown for export, for example, grain, the area should be large, just like for the production of livestock products.
Small farms can unite in cooperatives and jointly produce the required volume.
Where do manufacturers get technology?
They should learn from those who have already begun to manufacture such products. EkoNiva holding and foreign manufacturers can serve as an example. The VSAU has some developments.
– Unfortunately, there is no separate direction or specialty in organic production in the list of the Ministry of Science and Higher Education. However, the variable part of educational programs allows to form professional competencies in this area. Thus, at the university, such disciplines as "Modern Technologies in Organic Animal Husbandry", "Organic Farming", "Conformity Assessment of Organic Production Processes" were introduced into the educational programs of "Agronomy", "Zootechnics", "Production and Processing of Agricultural Products". Supplementary vocational education programs "Organic Agricultural Production", "Innovative Technologies of Feeding, Breeding and Reproduction of Cattle" have been developed and implemented for agricultural products manufacturers and farmers. In cooperation with the Bavarian University of Applied Sciences Weienstefan-Triesdorf, our students and teachers learn the best practices in the field of organic production in Germany. Of course, these are only the first steps in educational activities on organic matter, but the university has mentioned this area as a priority, said Natalia Derkanosova, Vice-rector of the Voronezh State Agrarian University, Professor, Doctor of Technical Sciences.
Should organic products cost more than usual?
In Russian stores, the average difference in the price of ordinary products and organic ones is 200-300%, and in developed European countries it is 15-50%. This is explained by the fact that the yield of organic crops is lower by 20-40%, and the labor costs for its cultivation, certification, storage, marketing are higher.
In organic farming, the price also depends on the quality of the product itself. Therefore, in the years of transition and with the accumulation of experience in the production of organic products, prices will definitely be higher for this production to be profitable.
– Studies show that Russian consumers are ready to buy organic products. However, the question of trust is more important than the price. People are willing to overpay 30-50% for real organic products, but they do not trust it. The Russian consumer wants to buy an organic product that meets the standards adopted throughout the world, says Oleg Mironenko.
– Organic products should not be very expensive, but a natural product, of course, cannot be cheap. A carton of our 3.2% fat milk now costs about 68 rubles. I think, the price of organic milk will be a bit more than 100 rubles per carton, warned Stefan Dürr.
What is the difference between organic products and products with "bio", "vegan", "green", "eco", "natural" markings?
Such markings are a marketing vehicle to increase sales. Organic products are tested and certified throughout the production phase. Nobody checks and certifies products with other brands or badges.
Why do we need certification?
– According to the existing legislation, state authorities do not control product quality, and this is a huge misfortune. When we check products and production conditions, we can only guarantee product safety, but not quality. Therefore, certification is very important. Until January 1, 2020, the necessary legislative acts must be adopted, otherwise there will be no escaping the falsification of organic products. Today, an average of 30% of meat and dairy products are falsified in the country, this is unacceptable, said Alexey Alekseyenko.
Director of the German company Kiwa BCS Frank Rumpe assured that certification is not such a complicated procedure as it may seem at first glance. However, for the import you need to comply with the standards of all countries. The main international markets for organic products – the USA, Japan, China, South Korea – have their own national quality standards for imports. The standards adopted in Russia are applicable only in the local market. They will not work in other countries. Moreover, due to the lack of confidence in Russia when importing, Russian products are subject to verification twice a year instead of one, as is the case with local manufacturers.
– In Russia, it is necessary to create a culture of supervisory authorities and to achieve consumer confidence in organic products. So far, only two Russian products have been certified and supplied to Europe: pine nuts from Siberia and vodka. There are almost 44 thousand producers of organic products in Germany now, a monthly turnover from sales exceeds Russia's yearly figure. 2.8% of enterprises produce organics. By 2030, the authorities have set the task to increase their number to 20%. In order to carry out this activity, the German manufacturers are controlled by the Organic Unions. There are EU regulations, the Law on Organic Farming. In Europe, there are 17 control bodies for organic production, and the European Union periodically changes its regulations. In addition, in Germany, manufacturers found to be in forgery face serious punishment – from large fines to imprisonment for one year. And the worst thing for a businessman is to lose financial support from the state, explained Frank Rumpe.