15-year-old Pavel Burchakov is 170 cm tall and weighs 260 kg. The teenager cannot walk more than 30 m without stopping as shortness of breath begins and his lips turn blue. Doctors warned the parents of the guy from Semiluki: if their son continues to gain weight quickly, he will have a stomach resection or he will die.
RIA "Voronezh" covers how the family and doctors are fighting for the boy's life.
"They think we feed him with buckets of food"
The entire family of Burchakov, consisting of three people, finds shelter in one small room on the fifth floor.
- Over the past two years, Pasha has gained more than 50 kg in weight. Our son has practically stopped going out. He spends all day long in his chair by the computer. We call him for a walk, and he wafts aside. And it is rather a challenge to take the stairs down from the fifth floor. As a result, he used to "walk" on the landing. He takes one staircase flight down, sits on his high chair by the window, breathes the air and then goes home again. And he does so several times during the day, even if we insist. That's all the activity, Pavel, the boy's father says.
In recent years, Pavel Burchakov does not go outside, he breathes the air here
Photo – Natalya Fokina
The parents puzzled for a long time why their child was gaining weight so quickly. They thought heredity was the cause of everything: his mother Irina is disabled since birth, doctors diagnosed "hypothyroidism" (lack of thyroid hormones). In her youth, the woman managed to keep fit with the help of medications and debilitating diets. But with aging, this is becoming more difficult. Now, being 140 cm tall, she weighs about 130 kg.
- The recent medical survey in Moscow showed that my disease was not inherited by my son. People think that we feed him with buckets of food! But believe me, we simply do not have enough money for it. In fact, two disability pensions – mine and my son's – make our budget. Our dad had to quit his job to look after us, Irina says.
According to Burchakov senior, the doctors in Moscow supposed that our son's body incorrectly absorbs calories. If we take an ordinary person, 70% of his or her calories are converted into energy and burned, and 30% are deposited in muscle and fat layer. In Pavel's case, on the contrary, 70% turn into fat.
- We asked "Why?" – And we heard: "Predisposition". If parents are big, then most likely, their child will be the same. At home, we found ourselves powerless in the fight against obesity. The fear of losing our only son forced us to seek medical advice, Pasha's parents say.
"I was sent to an abortion"
Doctors told Irina that she could not have children. That fact did not scare away her future husband Pavel and they got married. Soon after the wedding, they found out that they would become parents.
Irina Burchakova
Photo – Natalya Fokina
- Doctors called this case a real miracle, but they sent her ... to an abortion. They said that my disease could prevent me from giving birth to a healthy baby. And there was a possibility that it would be very big. But my husband and I were consciously taking risks. We understood that, probably, we would not have a second chance to become parents, Irina recalls.
The doctors demanded from the future father a written refusal of abortion and a consent that he would take the baby home in any case.
Pavel was born without any physical deviations. His weight was also normal – a bit more than three kilograms. But as the boy grew, the differences with his peers became more obvious. Being a first-grader, Pasha was already much bigger and head and shoulders above his classmates. But he found a common language with them quickly. He rode a bicycle, played a war game all throughout the day. He also took up boxing. And if his mother bought him a toy car, he asked to buy another one for his friend.
- It was all right up to the third grade. Then he began to feel sick for a long time. Ordinary angina could last for several months. Of course, this affected his school study, we were recommended home schooling, Pavel senior says.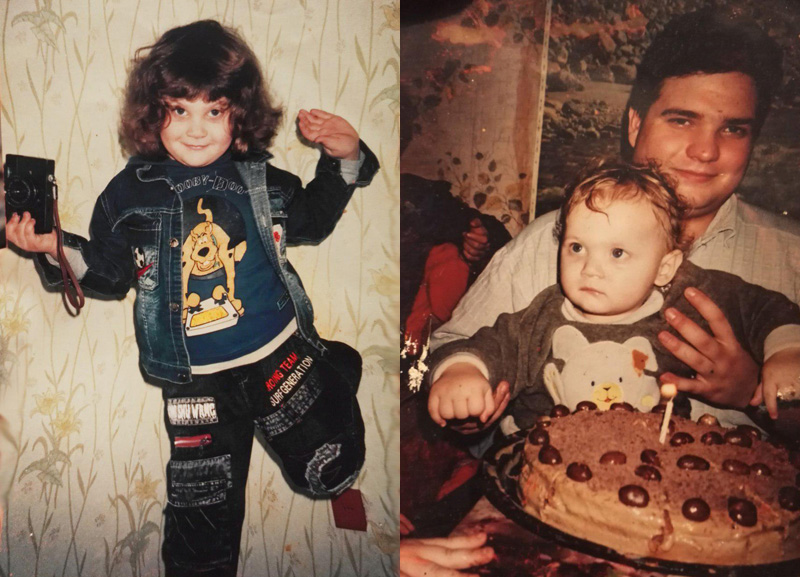 Three-year-old Pasha (on the left) wore clothes for seven-year-olds. Pasha is 1 year old (on the right).
Photo – from Burchakov's family archive 
First, teachers came to teach him at home, and later they began to teach him remotely – through the Internet. Waiting for the calls from the teachers, the boy could sit in front of his computer for hours. And this lasted not for a year or two. Due to low activity, he started to gain weight even faster.
- Pashka never complained. But I think he was teased outside. After a while, colorful computer games, new online friends overshadowed the real life. He was not fat for them, he was a part of their team. He was accepted as such. And the incentive to go outside disappeared completely. We tried to force him, but no dice! He said he was bored to sit on the bench with elderly ladies, the head of the family continues.
As a child, Pasha loved to go to the river, swim, and fish. One day his father called a taxi and took his son to the water. They walked down the hill, but their way up was a real torture. He had a shortbreathing. The boy's legs started to ache under the weight of his body. So, he had to stop long walks. They tried the pool. But the 180-kilogram child (Pavel's weigh at age 13) was not allowed to swim without adult escort. God forbid he starts to sink, but there is nobody to pull such a heavyweight out the water. At that time, his father was still working. His mother already hardly moved around the house. So, we had to abandon this idea as well.
At the hospital
When Pasha noticed a journalist in his hospital ward, he switched off from his computer and smiled. Then his father came in. He was holding a thermos with borscht, a salad, homemade croutons and two bottles of ice water.
- Our son refuses to eat the hospital food. He is hungry all day long until I bring home-made food. By the way, we cook clear vegetable borsch. Now look at his ration and say: can he gain tens of kilograms eating such food? – Burchakov senior argues.
- Yes, he can, Alexey Akulshin, head physician of the district hospital said entering the ward. - According to the Moscow doctors' calculations, Pavel needs to consume no more than 3,000 calories. But here is an important point – how much activity he has. If he does not move at all, the daily norm of calories should be much lower. When he came here, he could hardly take a few steps. And now he overcomes 30 meters.
Physiotherapy in the hospital
Photo – Natalya Fokina
The doctors monitor the guy's nutrition, do medical and physical exercises with him, take him for a walk. But they cannot weight such a patient every day as ordinary scales are not intended for such a weight. They have to use industrial scales. The doctors cannot check the work of the adolescent's heart with a holter due to the dense layer of fat. A blood test has showed that Pavel has a pre-diabetes condition and his arterial pressure is near 150.
- You, parents, love him, you feel pity on him. But it is not the matter of sympathy, it is the matter of how long he will live. After the treatment at the Semiluki Hospital, Pavel will go to the specialized rehabilitation center in Liski. This center deals with patients who have weight problems. If he does not manage to lose weight and the threat to life persists, he will have a complex surgery, a stomach resection. In other words, he will have a part of his stomach cut off. A complete redistribution of the work of the heart and other organs is carried out in the body. Rigid diet. Will he be able to withstand it? – the doctor describes the prospects.
The Burchakovs were listening in silence.
- I would like to start walk normally again, to ride a bicycle once. My friends say that my hobby for computers could become my profession. I'd love to be a programmer. But now I understand that I cannot cope without help, Pavel Jr says goodbye.