First children's technopark "Quantorium" opened in Voronezh on Monday, October 9. "Quantorium" is located in business center "Megion" on Truda Avenue and covers over 1.2 thousand square meters. Studying in the technopark is free.
The technopark is equipped with hi-tech modern equipment for science and technology studies – computers, interactive whiteboards, 3D printers and laser machine-tools. The studies are held in five education fields: aero-quantum, geo-quantum, robo-quantum, energy-quantum and VR-AR. "Quantorium" prioritizes robotics, IT, programming and other technologies and natural sciences. The choice of a "quantum" is conditioned by the demands of region's economy – at the technopark, children will be taught serious technical professions from an early age. Even the uniform of "Quantorium"'s students is grey and red overalls. According to technopark's Director Igor Korzhik, this way children will get used to the uniform they are to wear at work in the future.
The opening ceremony was attended by Governor of the Voronezh Region Alexey Gordeev. Among other special guests of "Quantorium"'s opening were Head of "Megion" Group of Companies Boris Nesterov and Director General of FGAU "New Education Development Form Foundation" Marina Rakova.
– A momentous event is taking place today. We are opening a very special facility. You guys will be able to gain additional knowledge in addition to your school education that will guide you in your future lines of work. Here you will do what you like, what you are ready to dedicate your lives and energy to. In today's rapid changing world, it is important to understand what the progress in science and technology is, what innovations are and all the new things that push the world forward. We created this technopark in association with enterprises that will continue using their knowledge, power and money to train highly qualified personnel for themselves. I hope that you guys will make both the Voronezh Region and our country the strongest in the world, - Alexey Gordeev addressed the first students of "Quantorium".
At the end of the technopark's opening ceremony, the Head of the Region gave "Quantorium"'s Director Igor Korzhik a bus purchase certificate.
Modern technologies await the guests of "Quantorium" already at the entrance: everyone here is greeted by the talking main computer and mobile robotic assistant. Only those who complete the hand scanning procedure will be allowed to enter study rooms: the pass entry system responses to touching a special device. The foyer has tables with chessboards for parents waiting for their children.
The technopark itself is divided into functional zones among which are the hi-tech equipment workshop, laboratories (quanta), a media library, recreation zones, a co-working zone, a lecture room and others. An interactive cosmonautics museum is planned to be located in currently empty atrium zone.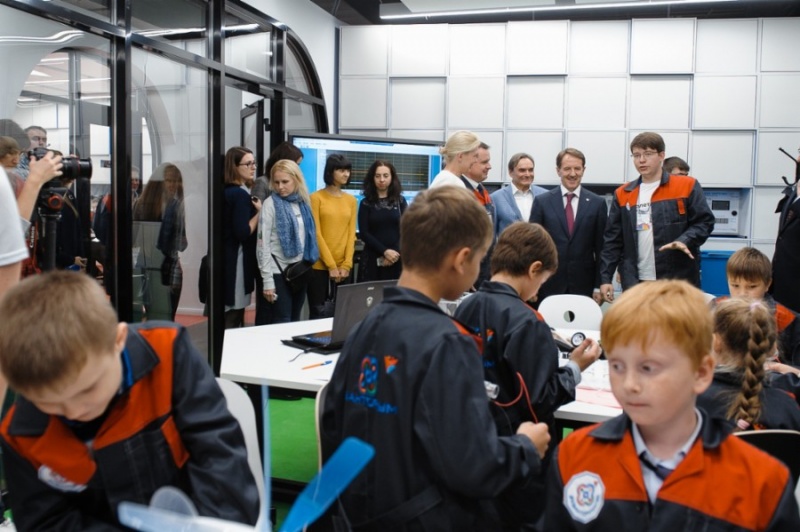 "Quantorium" works in three shifts thanks to which children of any age will be able to choose a convenient schedule. Each educational programme is designed for the average of 1.5 years. Should children wish to, they will able to study in each quantum for several times, change the education course, create scientific projects outside of the training programme. The main studies will be held during the school year, but the technopark will function in the summer as well – in a special work mode which is currently being developed. "Quantorium" is fit for children from 6 to 18 years of age. The first draft of 800 children is already recruited, but the technopark will occasionally have vacant openings for new students to fill. To monitor such updates, follow the technopark's webpage in social networks.
The "Quantorium" project was implemented in 2015-2016 in 22 Russian regions as part of the "A New Model of Additional Education for Children" programme of the Agency for Strategic Initiatives aimed at forming a steady multilevel system of out-of-school work with children.
The context
The creation of children's hi-tech parks in all regions of the country was announced by Prime Minister Dmitry Medvedev on November 30. Children's technological parks are model centers of additional education where school students will be able to create robot models, learn software programming and implement science projects.
Voronezh teachers are experienced in this sphere – there is a robotics center under the VSU and technical design and modeling workshops in the regional and municipal districts. This is why the VSU agreed to provide its assistance in the construction of the technopark in January of 2017.
The project was funded via private-public partnership. Federal subsidies amounted to 57 million rubles, over 20 million were allocated from the budget of the Voronezh Region, the rest was provided by sponsors.
Загрузка плеера
© TV-Губерния