Voronezh resident Viktor Demikhov lost 24 kg to join military science troop, where he will serve with other talented graduates of civilian universities for a year. Viktor Demikhov and eight more Voronezh residents were solemnly sent to serve in a military science troop on Wednesday, December 12.
Initially, the young man was declared unfit for military service – the guy weighed more than 120 kg. Victor had been eating healthy food and was running every day during the whole summer. When he returned to the military enlistment office three months laer, the personnel did not recognize him there at first, and were very surprised at the guy's commitment. His new weight suited the required parameters. Since Victor's intellectual abilities ideally suited before losing weight, he was immediately enrolled in the military science troop at the Voronezh Air Force Academy named after Zhukovsky and Gagarin.
– I graduated from the Voronezh Technical University with a degree in "Equipment and Technologies for Welding Production". After receiving the diploma, I immediately started working as a process engineer at Turbonasos. I attended Graduate Courses, worked and conducted research in the field of diffusion welding. When I was still studying, my friend in the dormitory told me about the military science troop. I immediately turned on the heat to get there. A year and a half before graduating, I began to prepare for the service: I wrote research papers, graduated with a diploma with honors, and worked. It all was difficult to combine it, but I had a goal. Of course, I had to fight with my weight, but in the end I got into the military science troop. I will try to prove myself here, to apply my knowledge. After all, I did not come here from a student's bench, but the factory people are well-tempered, experienced and stubborn, Viktor Demihov told the correspondent of RIA "Voronezh".
Six of nine Voronezh residents will serve in the Voronezh Air Force Academy named after Zhukovsky and Gagarin. Two will be sent to the military science troop established on the basis of the Academy of Communications in St. Petersburg. And one draftee, Grigory Gulyaev, was selected for service in the military innovation technopolis "Era" in Anapa.
"Era" laboratory cluster which is called military Skolkovo houses 37 enterprises. It includes such large concerns as Kalashnikov, Sukhoi, as well as research start-up teams. Together, they are working on 48 innovative projects in the field of robotics, power supply, bioengineering, information systems and other areas. Soldiers of four scientific companies participate in these developments.
– I really wanted to join the military science troop, and when I was told that I would go to "Era" technopolis, I was happy. Technopolis has just begun working, the power of Russian science will be concentrated there. I graduated from the Voronezh State University, specializing in micro-and nanoelectronics. I hope that I will be useful there and gain knowledge and experience, recruit Grigory Gulyaev said.
The competition to enter the military science troop equals to the competition for a prestigious university – 18-20 candidates for one student position. A prerequisite is higher education. But having a diploma is not enough – the Grade Point Average there must be at least 4.5 points.
– An important point: the Grade Point Average is assessed by the disciplines that are interesting for a specific kind of troops. Not all diploma points are taken into account. For example, point three in literature or philosophy is acceptable. The main thing is to have excellent points in the major subjects of the specialty that the student receives and the potential operator of a military science troop. Physical Education is also not taken into account. We will give physical training to the guys here ourselves. How much do you weigh? How many times can you chin up? – Major Victor Merzlov, the commander of the military science troop, addresses one of the draftees.
– 90 kg, Major. I will chin up two or three times, to be honest, the draftee responds, blushing.
– Well, it is now, and then you will chin up 20-30 times, Commander Merzlov is sure.
According to the instructions of the Ministry of Defense, the operators (military science troop servants are called so) will be engaged in scientific research most of the time, from Monday to Thursday, together with their research advisors. In the remaining days, they will have classes in military applied disciplines and sports training.
The troop operators will begin the scientific work in about a month. Prior to that, they, like all draftees, will undergo a course of military training, which includes drill, medical and rifle exercises.
The military science troop operators will serve as long as the soldiers of the rest of the army, one year. After that, everyone will decide whether to sign a contract and serve on or quit the army.
The draftees' parents were shown how their sons would live in the Air Force Academy while serving in the military science troop. The rooms are for four people.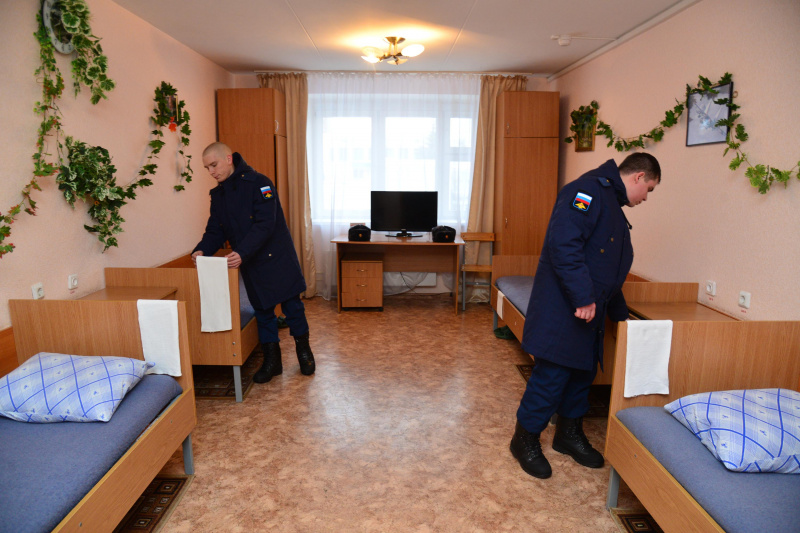 In the lobby there is a gym and a room for reading and board games. The food is varied, operators always have a choice of what, for example, to take as a garnish – pasta or buckwheat.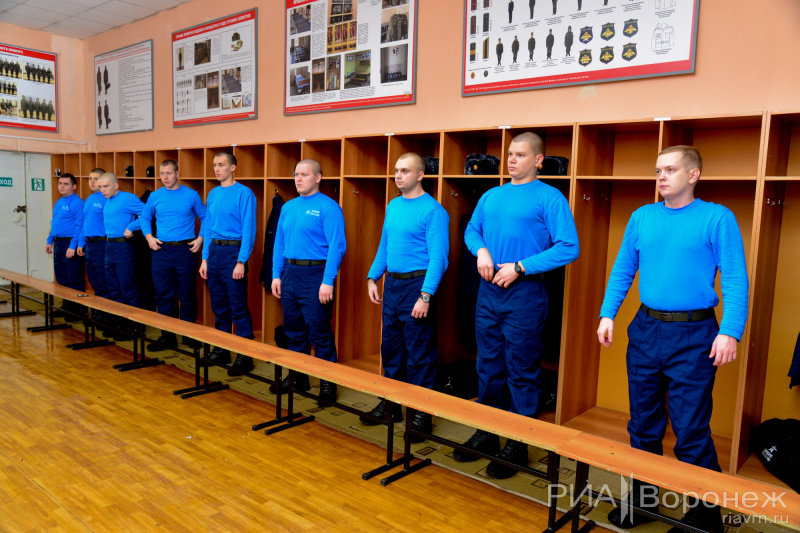 Mikhail Kiryanov
RIA "Voronezh" note for information
The first military science troop in Russia appeared in Voronezh in 2013 by the decision of the Minister of Defense Sergei Shoigu.
For the five years, more than 300 servicemen from various regions of the country, from Kaliningrad to Vladivostok, served in the military science troop. After the service, more than 100 people signed a contract and continue to serve, and more than 40 people continued their scientific work at enterprises of the military-industrial complex.
Military science troop operators filed 20 applications for the grant of a patent for an invention, developed 124 rationalization proposals, submitted more than 100 applications for obtaining certificates of registration of computer programs, published 412 articles in scientific journals and collections.