Graduate of the Voronezh State Academy of Arts Irina Lungu has been living in Italy for 12 years and performing on the world's best opera stages including Italian theater La Scala, British Covent Garden, Paris and Vienna opera theaters. At least once a year, Irina comes to Voronezh to see her family and her teacher Mikhail Podkopaev. During her last visit, the singer gave an interview to a RIA "Voronezh" reporter and told why she still sees her university teacher, what parts she is dreaming to sing and why Russian musical education is considered the best in the world.
– How often do you manage to visit Voronezh?
– Unfortunately, the last I've been here was a year ago, in the summer of 2015. I come to see my family in the Voronezh Region – my mother, my grandmother, my brother and sister live in Borisoglebsk. I always bring here my son Andrey so that he would not forget Russian language and communicated with the relatives. He's studying Russian, but the environment still makes a big difference, and the language is quite hard for him. I'm trying to keep up his double identity, he is bilingual. He already has two citizenships.
– Do you maintain your relationship with your teacher Mikhail Podkopaev?
– Of course, I always visit Mikhail Ivanovich several times when I'm in Voronezh. My next season is very busy, so me and my teacher are preparing for it. It's a certain mix of friendship and lessons. We have a very warm and sincere relationship, and having an ear I can trust, a man who can always tell me what's wrong and what I should work on is important to me. Once you reach a certain level, there's a certain problem with people being afraid to criticize or advise you something. I understand it, and so I try to be self-restrained in giving estimates to other people, because among artists there a many people who really tend to get offended. But I lack unprejudiced criticism. This is why I come to Voronezh to my teacher who can always tell me what problems I have without any complements or hypocrisy. Actually, he complements me quite rarely in general.
– Are Russian artists in demand abroad? Is their a flow of new names from Russia?
– Of course. A huge layer in any academic sphere is always occupied by Russian artists. One of the reasons is that we have a very big and rich country in terms of talented people, so there's a serious competition already at the national level. You have to really make a name for yourself in order to be able to go abroad, which is why those who go to the West are among the best of Russian musicians. For example, a lot of excellent vocalists come from Asian regions of Russia. In addition, our system of musical education is unrivaled in the world. Successive education, which implies that a child starts doing music at 6 years of age when he enters a music school and ends it at 23 after graduating from a music conservatory – there is nothing like this anywhere. In the West, if a child wants to do music, the most his parents do is get him a private teacher. Only in Russian you can get a higher vocational education diploma in music. And that is why is appreciated everywhere. In addition, our musicians have several other advantages: they study many additional disciplines, from acting to fencing; they can rehearse with an orchestra. This is what allows Russian singers to perform on the most prestigious musical stages in the world.
I heard that they want to change the whole system of musical education in Russia, get rid of the whole successiveness of musical conservatories and schools. I'm certain that this must not be done under any circumstances. It is the very system that allows us to be in demand on world's music stages.
IRINA LUNGU
an opera singer
– In April, you became the best soprano according to Italian magazine Gbopera. The voting was done by the audience. Do you your victory was caused by performing a certain part or you have gained your own audience in Italy?
– It was a nomination for a particular role – Donna Anna in Mozart's opera "Don Giovanni". But I was also voted for by those who haven't seen me performing this part but simply relate to me after seeing me in other plays. I posted a link to my Facebook page so my fans could vote for me. In addition, it was incredibly great to get so many votes from Russia, especially from Voronezh. I was voted for by people who most likely have never heard me sing but gave their vote to me simply because I'm from Voronezh.
– Should a today's opera singer or a singer in general have a social network profile, should they be open to communication with the audience? Or should they keep a distance from the listeners?
– 15 years ago it was ridiculous to imagine that every artist would have a social network account. But nowadays it cannot be underestimated. All the more so since the Internet has replaced all other people's means of communication. For example, I don't have a TV set at home. I get all the news from the web; it is also where I make deals in my work, communicate with my family and friends. And that's you need Internet - to get to your listener, to tell him about your plans and performances. Of course, art must be perceived from the stage, there must be some distance between you and your audience. But social networks and personal websites of artists are necessary for keeping a dialogue with the viewers. Unfortunately, today young artists at the very start of their career often tend to get their own website or a social networks profile. It is surely important, but it must serve as a support for the talent instead of getting ahead of it. You cannot claim to be a diva if you have just graduated from a conservatory. Everything in life needs to be proved. In addition, overselling yourself on the Internet can even backfire at the singer because it increases the audience's level of expectations, which may lead to a conflict if the singer does not meet these expectations. I'm not that much or a PC expert myself, I'm not very good with technology. I did not have my own website when I was 12. I thought that those who need information about me can find it on their own. But it's an improper approach. You have to help people fall in love with opera.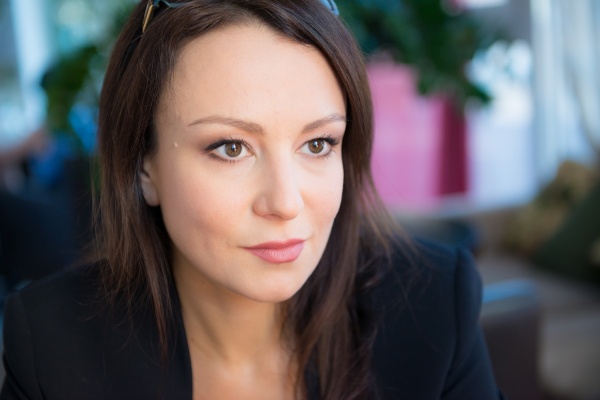 – Was there a role in your career that you consider a milestone?
– Undoubtedly, it was the part of Violetta in "La traviata" ("The Fallen Woman"). I sang it over 130 times in different versions of different theaters. It fits me both in terms of voice type, voice character and my scenic identity – it's simply hitting a bull's eye. In this part, I didn't need to invent anything. Of course, it's not like I memorized once and have been singing it the same way ever since – no, a creative person always changes and looks for something new, so to me all my performances as Violetta differ from one another. It depends on the production, on the director, on the orchestra, on colleagues, on the audience. I grow together with this role, and it grows with me. A vocalist has to "upgrade" the system constantly.
– Is the drama element of the part more important to an opera singer than the technical skill or is music in the first place?
– In our genre, there is no division into singing and acting. Vocalist's skill must fully serve the purpose of expressing the play's dramatic composition. It is built in the play by the composer himself both in melody and the means of voice's interaction with the orchestra. You can bring your own personality to a role: of course, my Violetta and the same character played by another singer will be different. One voice can sound bright at a certain moment, another one – intensely, and they will both sound equally solid.
– Is there a part you dream of singing?
– Yes, and, fortunately, I will sing it during the next season. It is the part or Anna Bolena in Gaetano Donizetti' opera "Anna Bolena". I will sing it in Avignon in France. There is a small beautiful atmospheric theater their which fits this production perfectly. I'm attracted and inspired by the characters of romantic and noble queens: Mary Stuart, Anna Boleyn, Elisabetta from "Roberto Devereux" – I've been interested in historic literature since I was a child, I loved to read about the royal affairs and dramas. There is another part I've been long dreaming to play and I'm going to perform in Spain a year and a half from now – it is the part of Manon in Jules Massenet's opera "Manon". And, of course, I cannot but mention, as they say in Italy, the sogno nel cassetto – which means a dream you have in your box waiting for the right moment – it is the part of Tatyana in "Eugene Onegin". But that's not for the nearest future. I would really want to sing it, and the role certainly fits me. But we have had so many great, iconic singers perform this part, there are such strong traditions of performing it that I will take this part only when I know I have something new and of my own to express in it. That I am able to sing it like no one aver did.
– Is the fact that you have not yet sang Tatyana's part caused partly by Russina operas rarely being staged in the West?
– Of course, Russian operas are a rarity in European theaters. A Russian opera is most often seen only in a tour programme of some Russian theater. The largest theaters with a massive audience like, for example, the Metropolitan Opera can sometimes stage Russian plays on their own, but mostly the most famous ones – "Boris Godunov", "The Queen of Spades" or "Khovanshchina". People will not go to see the just as magnificent but much less famous "Tsar's Bride" because they don't' know it, which is why theaters don't stage it due to marketing reasons.
– Would you like to sing in more Russian operas?
– Very few Russian operas fit me in terms of the voice. I would like to sing more chamber Russian music, Russian romances. But unfortunately I have such a tight schedule of plays and gala concerts that I have no time for a chamber programme. All the more so since it requires a detailed study and a very close interaction with an accompanist; in addition, you need to find a piano player who must literally become your soulmate with whom you will work as a whole.
– Foreign music theaters work differently from Russian ones, they don't have a repertoire rule. It means that singers prepare for their roles for a long time, participate in a certain play which finally turns out to be staged only a couple of times. Is it a pity, do you regret the efforts you've spent? Or is it more convenient?
– Not all theaters work like that, but in Italy – yes, a play lives for the average of 6-10 performances. Of course it is a pity, but sometimes plays become bought out by other theaters; sometimes, if a play is successful, they show it again after a while. For example, "La traviata" has been performed with different casts in La Scala for 20 years despite the fact that it is not a repertory theater. "La bohème" regularly returns to the stage of "Covent Garden".
– Such a system is probably even advantageous for performers, isn't it? It must allow them not to get stuck on the same role.
– Of course, this system raises the level of performers. For the plays that will be demonstrated only several times, major theaters invite the best vocalists which definitely will attract the audience. The point is that a great deal of box-office revenues comes from selling subscriptions. Viewers buy a subscription for the whole year, so they obviously are not interested in watching the same thing all over again, which is why the playbill must constantly include new names to keep the audience's interest up.
– You don't often perform in Russian theaters, do you?
– I receive invitations to perform in Russia, but our theaters don't usually plan their performances too far ahead of time, so unfortunately my schedule rarely matches theirs. Of course, I'd like to sing back at home too. After my debut in "La bohème", which was held at the Kolobov "Novaya Opera" Theater in Moscow, I received a lot of invitations from Italian theaters regarding this opera, this performance was lucky for me. This autumn I start performing this opera in the Teatro Regio ("Royal Theater") in Turin. It will be a superb avant-garde production from a group of Spanish theaters. I've already been told that my character Mimi will be dying from cancer instead of tuberculosis and that by the end of the opera she will be bold.
– How do you feel about avant-garde direction of opera plays? In your opinion, should opera stay within the classic framework?
– Opera must stay true to its genre. Even if it is an avant-garde production and the director needs to change the historic context – he is welcome to do so given that the complexity of the story, the tight entanglement of vocal techniques and dramatic composition, the complexity of relationships between the characters are preserved and that everything in the play serves the purpose of intensifying this effect. In other words, the most important thing is to keep up the theater art, to make the person who came to see a performance want to laugh, cry, to make him feel himself in your character's shoes, feel certain emotions.
Why has theater existed for over two thousand years? Because people want to see their lives being reflected on stage, they want to empathize. If all of this is preserved, than the context – whether the main character is in a mini skirt or a historically accurate dress – is insignificant.
IRINA LUNGU
an opera singer
– What time is your schedule already filled until?
– Until 2019. The next season is literally filled to the max, there is no place to fit anything in. In the future seasons there are still some gaps, but there are also several major projects planned, and they cannot be moved. Large theaters such as the Palais Garnier in Paris make arrangements with artists several years beforehand. That's because they want only the best singers which must be booked far ahead in time. Right now my schedule already includes "La traviata" in Paris during the 2018/2019 season.
– What other cities of the world are in your nearest plans?
– In the nearest future – mainly Italy: Turin, Bologna and Naples. After that – Moscow, on the New Year's – two concerts in the Chinese city of Shanghai, then – Vienna, Avignon, Barcelona, Madrid, Bilbao, Paris, Berlin.
– With a schedule like that you have to live in different cities for several months. It the concept of home smeared out or is there a place you always return to that you consider your home?
– Now, since my son has gone to school, I finally have a certain concept of home – it is Milan. No matter where I go, I regularly visit my son.
– Does your son have musical talent? Is he involved in music?
– He's 6 six and a half now, he goes to two schools – an Italian and a Russian one. Of course, it is not easy, but we're really trying hard to plant love for Russian literature and films. He writes and read in Russian. I managed to buy all the necessary textbooks, and I'm happy about it since there is no way to find them in Italy – you can only order them from Russia. He is not interested in music yet. I'm waiting for the moment when he indicates his willingness, then I will guide him. Of course I'd want it to happen. HE doesn't have to become a musician, but I think that music lessons are very useful for personal development in general. Music develops emotions, it enriches you in every way, teaches you to express your feelings using not only words. But right now my son is all about sports – basketball, tennis, swimming. In addition, the Russian school takea away a lot of time and efforts, so I don't insist on musical development.
– Tell us about the project you would like to implement in Voronezh.
– It is yet too soon to say something certain. But I've accumulated a lot of experience or participation in different festivals, productions, concerts, and I cannot but notice that the interest in opera in Russian regions is growing. It is very encouraging, and this interest must be maintained. It is a mistake to think that opera theaters experience a lack of audience. You just need to make people interested, make the trip to an opera theater a real event. I don't want to make a one-time concert or a two day festival for stars to perform at and then leave. My idea is to create a project after which something is left in Voronezh. For example, involving international level singers so that they would perform here with our orchestra, give master classes to artists – to make it a creative workshop for our troupes. To work with such professionals, to see the way it can be done, to here someone perform on a more advanced level. Stewing in the provincial atmosphere is disastrous to any musician. The audience lacks events, and musicians lack comparing themselves to someone else. I offered the Governor to create an opera festival consisting of three evenings which would include, for example, an opera from our theater's repertoire but with invited lead singers, and two more events such as a concert opera performance and a gala concert. I just know that attracting the audience requires not actualization and not some avant-garde but only high level of skill and professional excellence. An audience for an opera can be found even in the backwoods if it is a great opera with high-class performers. And Voronezh has the appropriate sites for it, it just needs to be organized on a certain level. There are a lot of ideas, there is support from the Governor, but it is not yet certain who will be doing it here, because I can only help in artistic management due to my busy schedule. The technical side of the project must be implemented in Voronezh, and at this point it requires estimating the capabilities of both sites, the budget and many other factors.
I'm often asked: you're Russian, right? So where are you from – St. Petersburg or Moscow? I always reply that we actually have 11 time zones. And I want Voronezh to have its own voice. I want to be asked: so where are you from - St. Petersburg, Moscow or Voronezh? And I want musicians to mention Voronezh in their resumes as a landmark site.
IRINA LUNGU
an opera singer