Voronezh resident Olesya Kovaleva dreams of her only son, Kirill, meeting with Ded Moroz and Snow Maiden. Fairy-tale characters have never come to the five-year-old boy. Olesya is not able to organize the holiday herself: four years ago, when Kirill was eight months old, Olesya was paralyzed due to multiple sclerosis. Since then, all the money – disability allowance and her mother's pension – are spent on medicines and the most simple grocery.
Olesya's bed with pressure relieving mattress is located in the largest room of the apartment. Next to it, there is her son's bed in the form of a car, a small table with icons and grapes, a magnetic board with letters and numbers, with the help of which the boy learns to count and put the simplest words together. Most of all, Kirill likes it when the letters make "mom".
– Mom, I made it for you, the son points to the board and puts a red heart cut out of colored paper next to the word "mom".
Thin Olesya with a boyish haircut (she had to cut off her long hair as it was difficult to take care of them) praises the boy and says that tomorrow they will learn to add up the numbers.
– Kiryusha is five years old, but sometimes it seems to me that in his heart he is much older. He already understands a lot for his age. He does a lot for me. He can feed me, hold a glass with a straw, and wash my face. He also feels my mood. He comes to me, hugs my face, and we lie like that together. These are the most precious moments for me, Olesya says.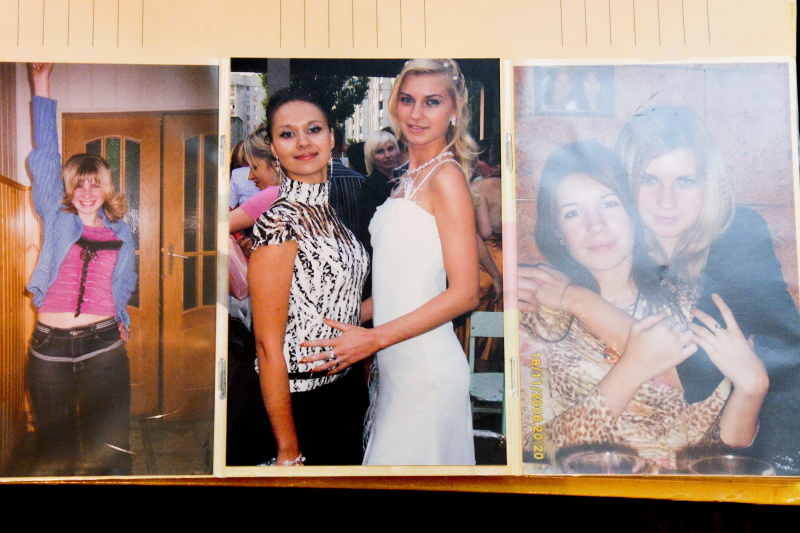 Olesya is in the center in the white dress
Up to 19 years old, Olesya's life was in full swing. After school, she entered the budget department of the prestigious Faculty of Economics. Beautiful, slim, cheerful, the life and soul of the party and the pride of her parents. One morning, Olesya woke up and realized that she could not see anything. The examination showed tumor formation in her brain.
– Her sense of vision gradually returned, but another diagnosis appeared – multiple sclerosis. Probably, then, in my youth, I was not fully aware of what it was. After all, I did not feel that something bad was happening to me. I continued to study at the university, I worked. I even got married and gave birth to a child, Olesya recalls.
Olesya met her future husband at her cousin's wedding. They immediately fell in love with each other. A year later, Olesya, in a white dress, walked arm in arm with her chosen one to the Wedding Palace.
– I immediately told him about my diagnosis. He said that he would always be with me and support whatever happened. Kirill was born. Over time, I began to get very tired, I wanted to sit down or lie down all the time. When I stopped getting out of bed, my body stopped obeying me, and my husband left us. Apparently, he did not think that I would fall ill so quickly. I did not hold him down. Now he has a new family, a child was born, I do not bear a grudge against him, let him live and enjoy life, Olesya said in a half-whisper.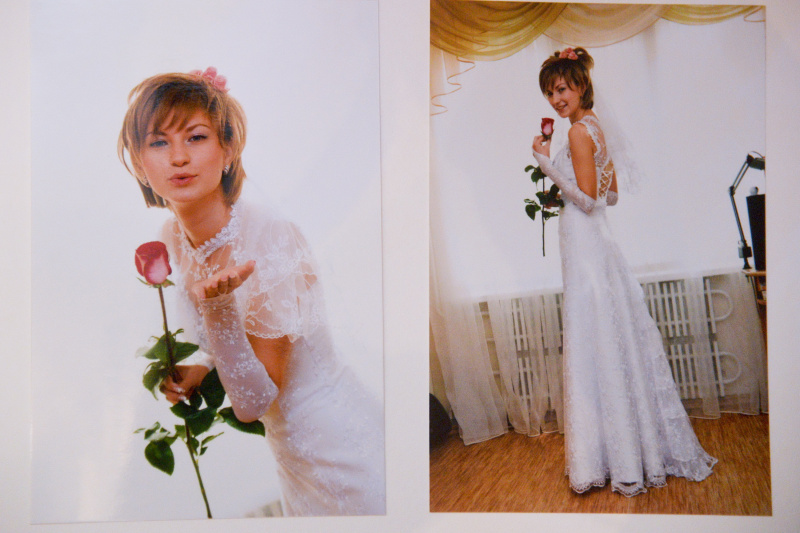 Olesya's mother, Valentina Mikhailovna, took care of her paralyzed daughter and grandson. Every morning in their family starts the same way.
– Mom changes my diaper, helps me to rinse my mouth, as I cannot brush my teeth myself, washes my face with a cotton pad, feeds me. I eat everything, but the food must not be in large chunks. I drink with the help of a straw. When Kirill is in kindergarten or has a walk, I watch movies on my phone, listen to the radio, communicate in VK or read books. My phone for me is a special world. How do I use it? My left hand works. I bring the phone to my face and choose an application with my nose. I translate speech into text messages with the help of a special program and send them, Olesya explained.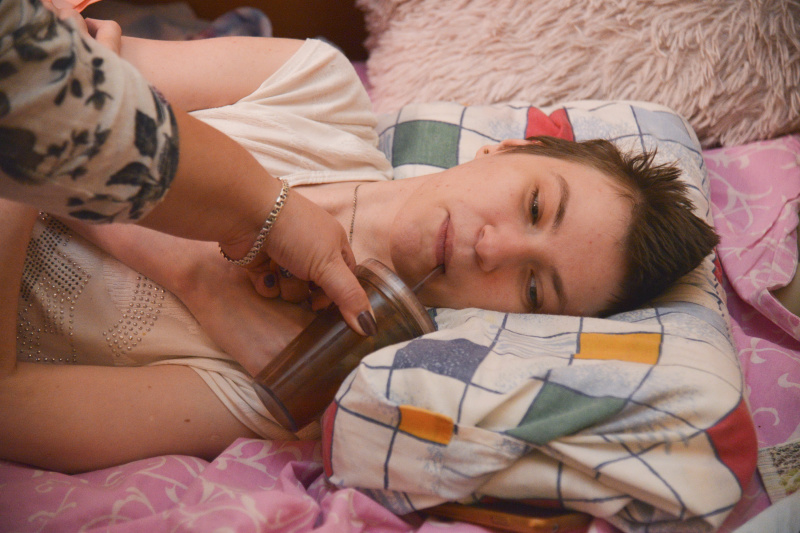 Despite her condition, Olesya is not discouraged. She says that there were moments when she did not want to live. She did not understand why this happened to her, when she had not really seen life yet. She found peace in psychology books and in faith in God.
– I used to think: "Why did this happen to me?". And now I know –  diseases are given to us for something. I have completely rethought my life now. I have become different inside. I wake up in the morning and do not curse my life, but look out the window and enjoy the new day. I know that so far no one has come up with a cure for multiple sclerosis. But I am an optimist, I believe that I will live until the moment when scientists invent it and my life will change. I often dream how I walk again. I know it will happen because our thoughts materialize after all. Two years later, Kirill will go to school. And I hope that I accompany him to his first lineup. Let it be on crutches or with a wand, but I will accompany him, Olesya says with a smile.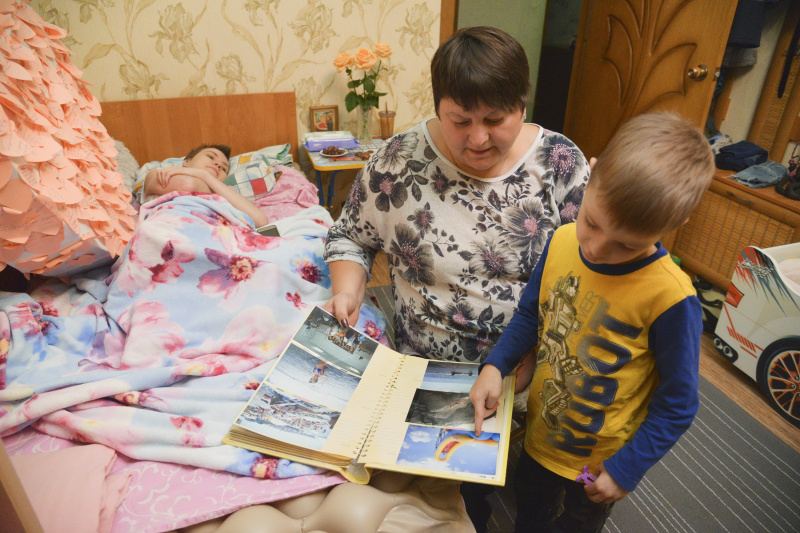 According to Valentina Mikhailovna, her daughter's classmates and groupmates support their family very much. Some of them give clothes and toys for Kirill, others – food and money. Olesya's friends can look after the boy when her grandmother needs to go somewhere.
– The church also helps us a lot. They buy medicines, products, and diapers. The priest found a free speech therapist for Kirill. Kind volunteers visit us. This heart, which is next to Olesya, was recently brought by girls from her Gymnasium – Teaching and Educational Complex No. 1. There are small hearts with a variety of wishes on it. They were written by children from different classes. This surprise was organized by Olesya's former class teacher Alina Kostyukova. Olesya is still crying, looking at this heart, as she was so touched by this attention, Olesya's mother said.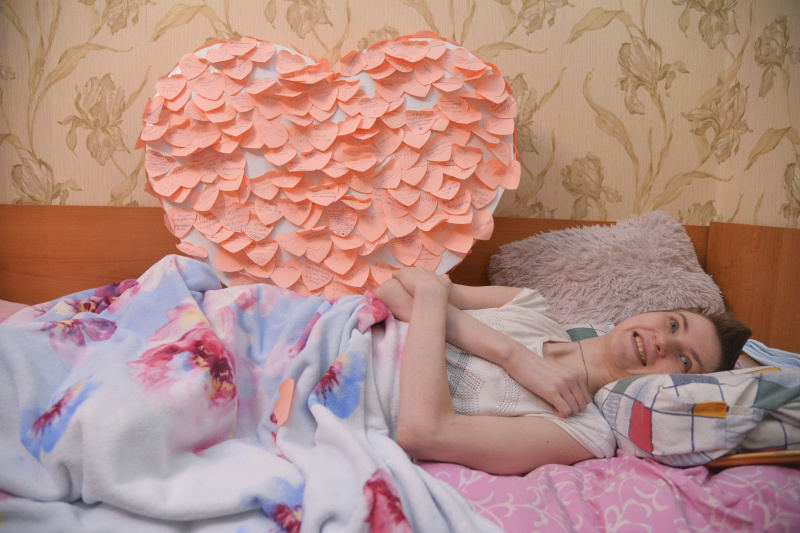 Dear readers! If you want to help to arrange a meeting with Ded Moroz and Snow Maiden for little Kirill, or you have a desire to make a New Year's gift to Olesya herself, inform the editors of RIA Voronezh by e-mail riavrn.ru@yandex.ru with the note "Help Olesya".
Our journalists will tell you how to contact Olesya and her mother.
Загрузка плеера
© РИА Воронеж