In "Destiny's Challenges" project, the journalists of RIA "Voronezh" tell about miracles and tragedies, loyalty and betrayal, complexities and joys of family relations. On Wednesday, August 23, the heroine of the project was 51-year-old Svetlana Arapova. The woman cannot walk from the age of 14. As her house is not equipped with a ramp, she can not independently get out on the street for almost 40 years. Earlier, she was helped: first – by her father, then – by her stepfather. The men carried Svetlana in her wheelchair along the stairs. Several years ago, the situation became more complicated. Of her relatives, only 76-year-old mother remained alive, who is unable to take her daughter out onto the street. Svetlana is comforted with drawing and feeding sparrows on the windowsill.
Drawing became her way of escaping
Photo – Mikhail Kiryanov
Svetlana lives in a one-bedroom apartment on the outskirts of Voronezh. She moves freely around the apartment in her wheelchair. She opened the front door for us herself, then entered the kitchen, put the kettle on the stove and went back to her room. In her 45 sq. m. she feels confident. But the comfort zone ends just ar the doorstep of her apartment. Five steps in the entrance and four steps on the street became the reason for her imprisonment.
The steps that became the barrier to the wheelchair user
Photo – Mikhail Kiryanov
- If there was a ramp, I would be able to go outside on my own, breathe in air and just sit and look at the sky, flowers, people passing by. And without a ramp I'm like in prison in my own apartment. I do not feel comfortable to ask strangers to help me out and then bring be back home. Why should they help me, spend their time on someone with a disability, Svetlana says.
According to the mother of our heroine, Nina, her daughter was born a weak, sick child. Doctors diagnosed her with congenital kyphoscoliosis (a disease affecting the thoracic spine – RIA "Voronezh"), overpronation. In addition, the girl had only one kidney. Before going to school, Sveta had several surgeries on her legs, after which she not only began to walk normally, but even was able to play catch-up and football.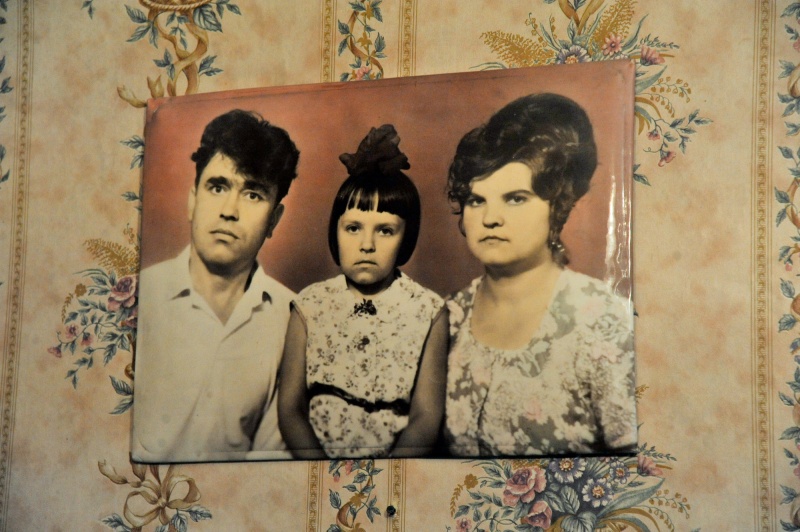 Svetlana and her parents, 1963
Photo – Mikhail Kiryanov
- We thought Sveta was recovering, but the joy was short-lived. When our daughter was 12 years old, we were offered to leave her for a year in a boarding school for children with health problems. They said that Sveta would learn and receive treatment there, she would have various manipulations for her back, a massage. When she was there, she was sent to a hospital without our consent. Now we all have cell phones the news is quickly transmitted, but back then, in the mid-70s, my husband and I learned about the hospitalization of our child only in a few days. We came to the hospital worried, but the doctors calmed us down. They said that the capital's doctor came to them, who knew how to treat children with kyphoscoliosis, and we were very lucky. We believed the doctors, but what else could we do? She was kept stretching there, had a lumbar puncture. In the end, her condition only worsened. After the release, Sveta barely kept to her feet, walked along the wall. And by the age of 14 she completely weakened. She moved in orthopedic devices on crutches with difficulty, Nina Arapova recalls.
Sveta's parents decided not to find out whose blame it was.
- It was a different time, no one could even hint at any medical mistakes, courts. We were simple workers. I was a painter, my husband was a chauffeur, no one would even listen to us neither  in the hospital, nor in other instances. We were afraid for our daughter, we did not think about treatment, the main thing was that she was alive. Since then, we have been trying to go to doctors as rarely as possible. We hope only for God, it is up to him to decide, Nina Arapova says in a low voice, so that her doughter does not hear.
"After school, her life seemed to stop"
Photo – Mikhail Kiryanov
After the hospital Sveta was provided a home-based education. She graduated from school, and after that, as she confessed, her life seemed to stand still. Sveta's parents did not even think about her further education. To get a profession, they had to bring their daughter to school every day, and she was too weak. And it was not just about health. To get a job for a young disabled person during the Soviet era was much more difficult than now. People with disabilities were taught from childhood that they would not have a bright future, so a lot of people with disabilities, like our heroine, were at home, turning into invisible creatures to society.
- When my grandmother was alive, I was taken to her for the summer. And after her death, all the days were the same. Only the landscape outside the window was changing. What have I been doing all these years? I have been reading. I like foreign and Russian classics, I have watched everything on TV, learned to cook. Thanks to this, if my mom leaves, I'm not afraid to be alone. I will not die of hunger. All I need is water and some food in the fridge, Svetlana says, handily getting the dishes out of the kitchen cupboard.
Svetlana prefers oil paints
Photo – Mikhail Kiryanov
In the 90 years, Svetlana became keen on painting. She says she had a craving for drawing as a child, but due to her health problems she did not attend any art circles.
- At some point I really wanted to paint. It was like a delusion. I painted everywhere: in albums, on cardboard, pieces of wood. Later, some kind people gave me canvases and a set of oil paints, and I began to paint something similar to paintings. I like to paint from nature, but since I have a problem with going outside, I can not paint landscapes, that's why I usually work with still-lifes. I made this painting when my mother brought a branch of lilac, put it in a vase, and I painted it, Sveta explains.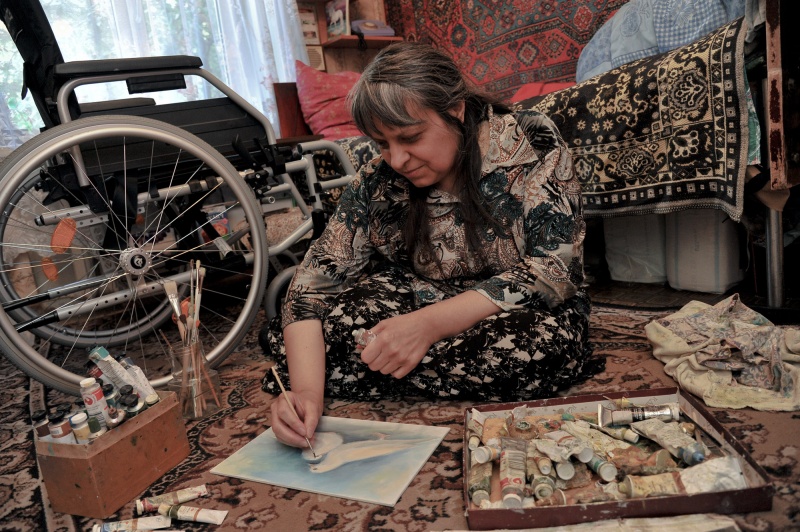 "I can paint away the hours"
Photo – Mikhail Kiryanov
Sveta paints sitting on the floor. To do this, she first moves from the wheelchair to the bed using her hands, and gets down from the bed to the carpet. She takes the palette, brushes, paint. She does not use an easel. When she paints, she holds the canvas in her hands.
- I can sit and paint for hours, I do not have to hurry, our heroine sneers. - In addition to landscapes, I like to draw imaginary characters. Now, for example, I'm working on the illustrations to a fairytale by a poetess from Kalach and paint two doves at the same time. Once I painted a self-portrait. I pictured myself as a gypsy, the main character of the song "My Fire is Shining in the Fog". I painted myself using a mirror.
Svetlana on the background of her self-portrait
Photo – Mikhail Kiryanov
Svetlana does not know how many paintings she has painted in 20 years. Some of them are hanging on the walls in her apartment, even more are under the table and the bed.
- I paint and pile them, I don't know what to do with them. When I am run out of my oil paints, I will stop painting. They are expensive, I can not afford them. And I will have only one joy - to feed my feathered friends, - Svetlana says with sadness.
Svetlana feeds sparrows every day. To do this, she climbs onto the table, standing next to the window sill, opens the window and pours various cereals into the lower part of the frame.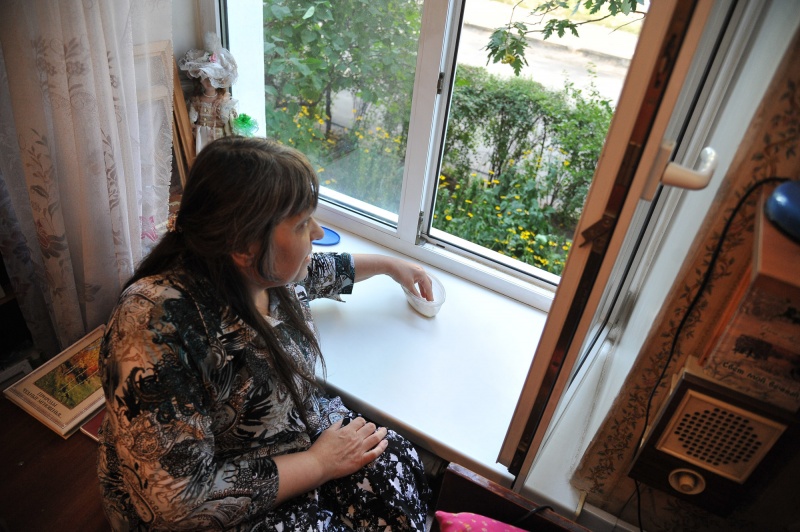 Sveta feeds sparrows with cereals
Photo – Mikhail Kiryanov
Svetlana confessed to us that she has three dreams. The most important is a ramp in her house so she could go outside on her own. The second is to organize a solo exhibition where she could sell a couple of paintings in order to replenish the stock of paints and canvases. And the third is to buy a laptop or tablet. With their help, Sveta wants to find penpals, communicate via Skype with her friend-writer from Kalach, watch films about art and nature.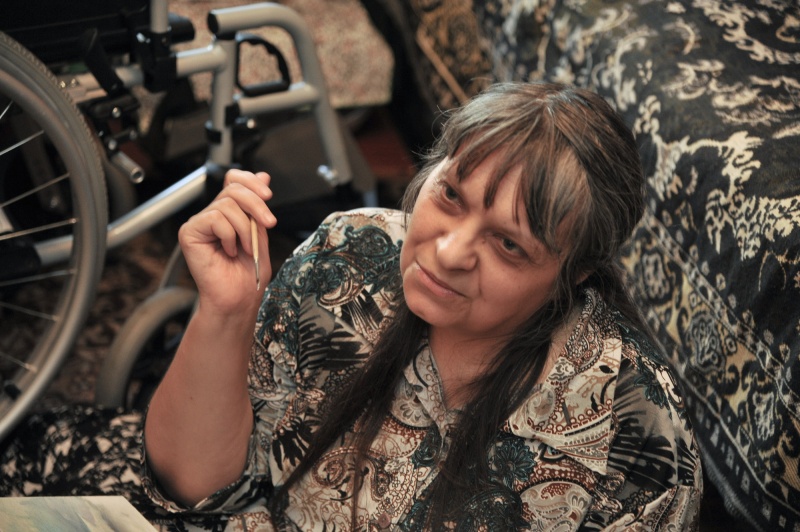 Modest Svetlana has three dreams
Photo – Mikhail Kiryanov
The editorial staff of RIA "Voronezh" addressed the Training and Resource Center "Accessible Environment", which deals with issues of barrier-free environment in the Voronezh Region, asking to assist in making a ramp for Svetlana. The head of the organization, wheelchair user Alexander Popov, knows from his own experience how to equip a comfortable and safe ramp.
Dear readers! If someone has an unnecessary laptop or tablet, give it to Svetlana, please. The Internet will give the person living within four walls the opportunity of communication and self-development.
If you want to help Svetlana, write an email to the following address riavrn.ru@yandex.ru with the note "To Svetlana Arapova".
Загрузка плеера
© РИА Воронеж