118 pupils will study at home in the academic year 2018/2019.
In the academic year 2018/2019, 118 Voronezh children will study the school curriculum under the domestic education system. Parents teach their children themselves or hire tutors, and twice a year, pupils take exams, tests, write papers, dictations and essays. Parents, pupils and teachers told the RIA Voronezh journalists about the pros and cons of this type of education.
Katya and Varya
There are three children in the Tyurins family. Katya is ten years old, Varya is seven, and the youngest, Nastya, is only four months old. The older girls successfully cope with the school curriculum at home – their mother Nina is already thinking about teaching her younger daughter herself in the future.
Photo – Mikhail Kiryanov
– Katya started to take up gymnastics at age four with exhausting workouts almost every day. Closer to school, I began to think about trying domestic education, but my husband was against it. He thought she had to go to school like all children do. We live in Semilukskie Vyselki, and submitted our documents to School No.37, which is in the center of Voronezh. It cooperates with our sports school, Nina Tyurina said. – You take your child to school in the morning, after school, they take her to workouts, and you pick her up in the evening. It is convenient, but it is a real horror to get through the city in the morning and in the evening. We drove her for two months. Our daughter was exhausted, because we came home after 20:00, had dinner and immediately started doing her homework. We thought it over and decided to try domestic education. Now Katya is a fourth grader, and neither she nor my husband and I have ever regretted it. The middle, Varya, told us that she would not go to school either. We didn't really insist, we also submitted her documents to School No. 37. She did not even want to take up in the lineup on September 1st. She asked: why? We answered: well, you will remember it for a lifetime - chiffons, flowers, your bag. We could not convince her.
Nina Tyurina educates the girls herself. They do not have a strict timetable: they do not get up with an alarm clock, but when they get enough sleep. They open their textbooks not when the bell rings, but when they have strength and will.
– Frankly speaking, my children do not study every day. I do not have a goal to hover over them and make sure they beaver away at their textbooks. The main thing for me is that they learn the program. If a topic is hard to understand for them, we close the textbook and forget about it for a while. A few days pass, maybe a week, we start it again, and we manage to learn it. Let us look at how the same thing happens at school: the topic is given during the lesson, the child did not understand it, the parents help him until late at night. Neither the child nor the adults understand anything, everyone is pissed off, the child is almost considered to be retarded because he understands nothing, Nina Tyurina noted.
In addition to the lessons, the girls attend hobby groups and clubs. The sisters take up gymnastics five times a week, and they also learn to play the piano and guitar, draw, and learn English.
Photo – Mikhail Kiryanov
Twice a year, Katya and her sister take tests at school: they write dictations, tests, checklists, submit environmental essays and make crafts. Katya graduated from the third grade with one mark "four" – on Russian Language.
– I could have had mark "five" as my teacher did not notice the mistake, but my mother saw it and said that everything should be honest, and they put me "four". At first, it was a pity, but my mom says that marks are not the main thing, the main thing is knowledge. At the moment my knowledge does not reach mark "five" on Russian Language, Katya Tyurina said.
The girls' mother is an engineer. She knows all STEM disciplines well. The only difficulty now is with the English language, because she studied French at school.
– It's okay, I started learning English with Katya from scratch. We learn it together, in addition she attends free language classes at the Art Center. As for socialization, the girls have enough communication with their age mates at hobby groups and clubs. They also have friends among children who live next door. Our girls are very sociable. They choose who they want to communicate with. As for school, your teacher makes you sit with boy Vasya and you have to be patient, even if he is a bully or a silver-spooner with the latest model of iPhone, Nina Tyurina said.
Photo – Mikhail Kiryanov
Initially, the Tyurins family planned that Katya would be a "domestic pupil" only in elementary school. Now parents are already thinking about using system further.
– Yes, there will be new subjects, but I know Algebra, Geometry, Physics and Chemistry. I see that Katya has become calmer, that she is not inferior, and maybe ahead of her peers in knowledge. The child does not want to go back to school. This is the worst punishment for her now. If Katya begins to be lazy, I say that I will take her back to school, and she immediately becomes serious, Nina Tyurina confessed.
Bogdan and Valya
Yelena Poletayeva's sons have been using domestic education system for only a month, and she has managed to feel the difference during this short period. The boys who constantly missed classes due to illnesses feel good now.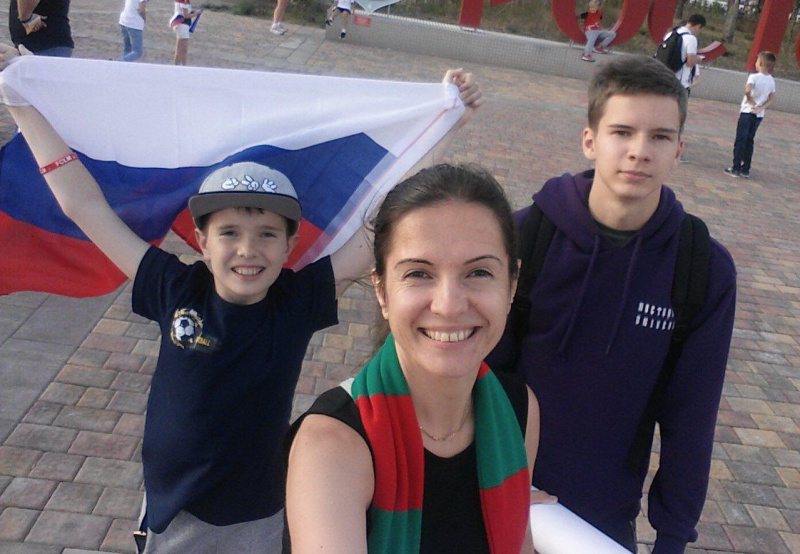 Photo – from Yelena Poletayeva's archive
– Our junior, who is ten years old, would have either brought a virus home, or would have come with running nose. Our older 15-year-old son started to have heart problems during the puberty period. Pediatricians say that this is temporary, but nevertheless he was often ill at school because of this during the last school year. The teachers let him go home, as a result, he missed classes, and they began to despise him because he did not know the school program well. Now our children get enough sleep, they are not hungry, they do not have snacks on the run, they have no fear of the teacher that they do not know something, but they will need to speak in front of the class. They are not afraid of the basic state examination and the All-Russian tests, they do not say that they need to prepare for the exams every day without days off and holidays. Thanks to this, the health of our sons have become better. The cardiologist noticed a good dynamic, Yelena Poletayeva said.
Our eldest, Bogdan, studies himself. At the beginning of the school year, he and his mother looked through the textbooks, selected the topics to be studied, and made up an individual education plan. Every weekday, the guy studies three new topics and repeats the already covered material and reads fiction.
– At first he first studies the topic himself, then watches video tutorials on YouTube. If he does not understand something, he asks me or his grandmother. I told him that if he doesn't understand something, we will hire a tutor, but a month has passed and everything is clear to him so far. Bogdan is responsible. I am lucky in this regard, I do not control him. I constantly repeat to my sons that I do not need the knowledge, they need it. This is their life, so I have never scolded them for bad marks. Moreover, the rating system in our schools is very subjective, sometimes the mark depends on the teacher's mood, and not on the child's knowledge, Yelena Poletayeva says.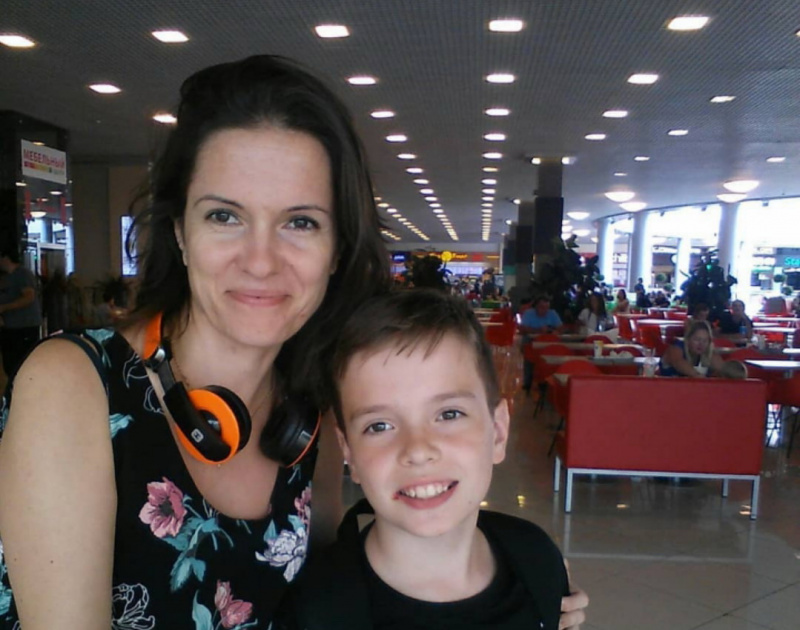 Photo – from Yelena Poletayeva's archive
She has to control her youngest son, Valentine: to learn the topics together, to remind him that it's time to do his homework.
– I bought my son a tutorial program in Mathematics, designed specifically for "domestic pupils." He likes it. Domestic education gives freedom, which is very important for us, as we travel very often. Right now, for example, we are in Moscow with my youngest son, he wanted to try himself in the actor's field. We found a special website looking for background actors. Valya has already played in three TV series. He likes it very much – both the creative process and the opportunity to earn money. Studying at school, we couldn't quit lessons and go to the shooting in the middle of the school year, Yelena Poletayeva admitted. – The first tests will show whether we will continue domestic education or go back to school. The boys have to go to their School No.37 from December 1 to December 20 and show their knowledge. If they do not pass the tests, they will go to school again. Time will tell.
Eve
Clara Michailus ten-year-old daughter was using the domestic education system for a year. In September 2018, Eve returned to school, to 4 "V" of Voronezh Lyceum No. 1.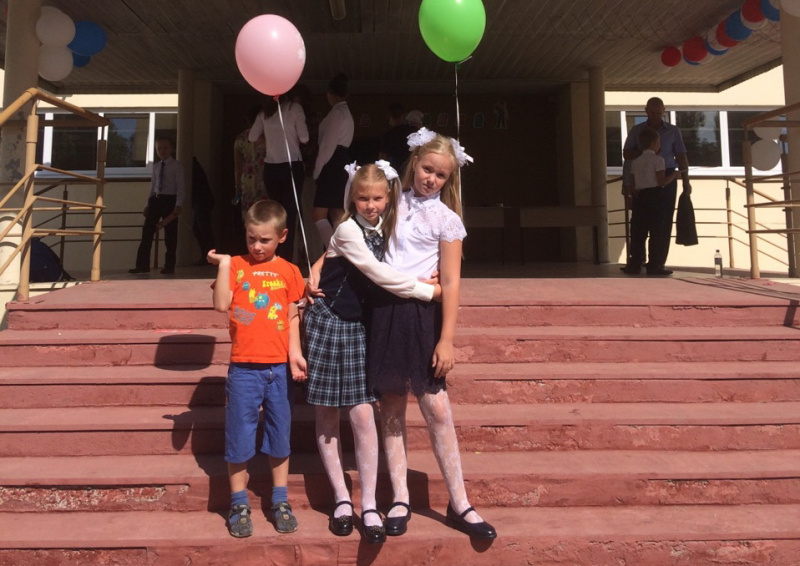 Photo – Mikhail Kiryanov
– We started using the domestic education system hoping that it would help us to solve some of our daughter's health problems. The last school year showed that the number of problems was not decreasing, but socialization without school suffered. In my opinion, the ability to communicate, defend one's opinion and present oneself is no less important than the bundle of knowledge in general education subjects. After all, the success of a person in the future depends on the ability to communicate with others. We saw that she missed her classmates during the whole third grade. We asked her if she wanted to go back to school. Our daughter said "yes," the girl's mother said.
Clara remembered that the first "domestic" quarter was not easy for Eve. It took time to draw up a schedule of classes and adhere to it, to tune in to a serious attitude to studying at home and realize that her mother would not let her relax and would ask like the school teacher.
– We agreed with the Director of our lyceum that we would take tests every quarter. Due to some organizational issues, Eve did not show good results in the first quarter. But then, the learning process returned to normal, and the next quarters were "excellent," Clara Michailus said. – We adhered to the schedule. We studied Russian and Mathematics every morning not for 45 minutes, but for an hour and even more. After lunch, we studied English, Environment, read fiction, and had additional piano lessons at our music school.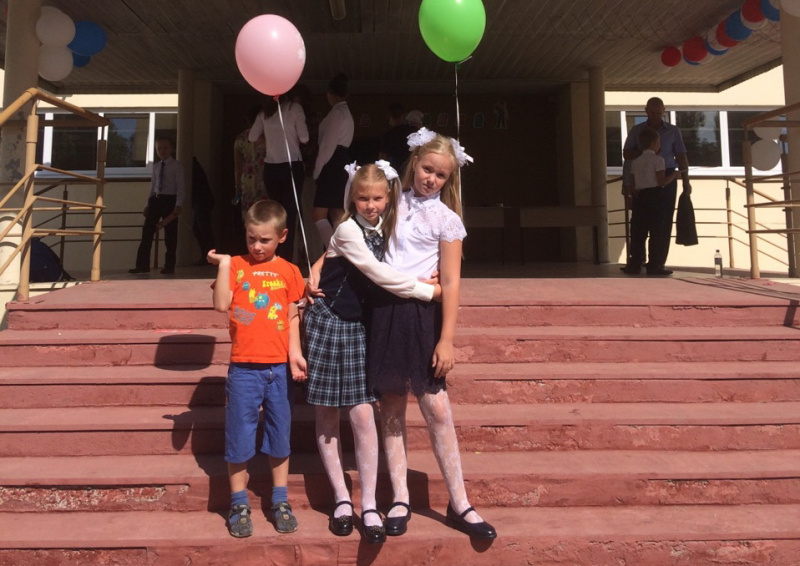 Photo – from the Michailus family archive 
According to Clara, their daughter became more independent thanks to domestic education:
– Our youngest son is nine months old. After he was born, my daughter began to do her homework herself, to study new topics. Of course, adults sometimes helped her, but mostly she did everything herself. I can say that the level of knowledge has become higher thanks to Eva's domestic education. But we have no goal to bring up a Nobel laureate. Therefore, after weighing everything, we decided to return to school. In our case, socialization and good education in the lyceum outweighed the free schedule, the savings on the uniform, contributions to the school fund and better individual domestic education. Domestic education has both advantages and disadvantages. I do not regret that we had this experience. But you need to look at the child, evaluate the possibilities of the pupil and his parents regarding the independent study of the program, whether there is a desire to communicate with the classmates. For example, our middle son is a very sociable child. I doubt that domestic education will suit him.
What are the pros and cons of domestic education?
The advantages and disadvantages of domestic education have been named by Head of the Department of Education and Youth Policy of the Voronezh City Hall Lyubov Kulakova.
Pros:
• An individual studying rate. Parents can set a schedule for their child independently. If he or she does not process information well, they can pick the teaching techniques in order their child understands everything in detail;
• Children can live in accordance with their natural biological clocks – wake up whenever they want to, learn at a certain time when they are best at it. It gives an ability to allocate studying time and time for hobbies or sports;
• Parents can take account of all individual qualities of their children and lead their development and education in the direction that can prove useful in the future;
• Children receive an ability to study rare fields of knowledge not taught in schools – languages, architecture, arts.
Cons:
• Children can feel alienated. They may miss a collective, communication with their age-mates, life in society. It may lead to inheriting a stereotype "black sheep" pattern;
• There can be a side-effect in the form of displays of egoism in the future. A person used to privileged treatment may experience complications within a group in a situation when he or she ends up in equal conditions with the others;
• Children need constant control. Parents who choose this form of education must be ready for it and have an ability to spend their time on children;
• There is a risk of future difficulties with studying at universities, colleges, and technical schools if parents fail at giving the child a proper education.
Photo – from Yelena Minnibayeva's archive
– One must remember that in choosing domestic education the child must play a mandatory part of decision-making. Otherwise, it will be simply another intrusion of regulations that limit the child by his parents which will deprive this type of education of its main advantage over the school, Lyubov Kulakova added. – One also must be ready for a good education to result in serious expenditures. Parents must be very organized in order to set the education process for a child at home, define an accurate lesson schedule, put together a curriculum.
What do teachers think?
Irina Kaminskaya, a Mathematics teacher at the Basov Gymnasium in Voronezh:
– In general, I am for a variety of forms of learning and variability. There are situations when, due to health, physical and intellectual development aspects, sports and art occupancy, it is objectively better for a child to learn independently and according to an individual plan. As for socialization, a child can learn to communicate not only at school. Hobby groups, sports clubs, volunteer associations cope with this quite well. In general, of course, this is a big responsibility of parents – both the decision to switch to domestic education, and the organization of this education. I have not yet encountered such situations, so all the ideas about domestic education are only theoretic.
Yulia Starykh, German teacher at online courses:
– I definitely support the existence of domestic education. I have two sons of school age. I often have to help them with understanding the topics that, in theory, shall be explained by the teacher in the classroom. Sometimes homework is based on new material, and the child is not able to figure it out himself. At such moments, the following question arises: "Sorry, but why do then my children need school, if I, their parent, have to explain and interest them?" Perhaps, if I had not worked and decided to devote my life to the education of my children, I would transfer them to the domestic form of education. Fortunately the Internet today allows you to find a teacher to your liking anywhere in the world. It is clear that the socialization issues are solvable outside of school. Moreover, in some cases school cannot cope with this task for a number of objective reasons. This is not a reproach towards the school, but simply a recognition of the fact. But this issue also requires a very informed approach from parents. I respect the parents, who understand all the responsibility, realize what they do and why when transferring their children to domestic education.
Valentina Khambalinova, a primary school teacher at Voronezh School No.71:
– There are children who, due to their state of health, cannot attend school. Both they and their parents are very sorry that they do not have such an opportunity. But it turns out that there is an opportunity to study at school, but the parents deliberately take their child out of school. I do not understand why, to be honest. If they want to give a deeper knowledge to their children, there are electives and online courses. Nowadays children are increasingly using social networks, can communicate well online, but become embarrassed when they have to communicate in person. Why deprive the child of the opportunity to contact peers? After all, socialization is no less important than knowledge.
Yulia Grigorieva, French teacher at Ostrogozhskaya School No.1:
– I have a good attitude to domestic education. Unfortunately, the vast majority of modern schools cannot provide the conditions for the harmonious development of children. At the same time, the school has ceased to be the only source of knowledge, today all knowledge is available outside the school. Perhaps the only task solved well by the school is socialization through communication with peers and teachers, but unfortunately, it is not always safe at school. The task of socialization can be solved by selecting hobby groups or clubs for the child where he or she will study in a group with other children. I also support the idea of domestic education because at home there are not countless universal requirements and the child can learn at his own speed and using those methods that suit him or her personally. At the same time, he or she certainly needs the help of a competent adult – at least until the sixth or seventh grade. Then he or she will learn to study and will be able to find and select learning paths independently.
The context
Family education is often confused with home education. Actually, they are completely different. A child undergoing home education does not go to school due to the state of health and an assessment given by a medical institution. Teachers visit the pupil at home or at a medical facility and teach the child at a time convenient for him.