Oksana Lyubochkina is 28 years old. She has been living in a nursing home in Kashirsky District for the last 5 years. The girl took the decision to move there. She became paralyzed after a car accident – her legs and her arms were not working. Her elderly mother was taking care of her for two years. At 23, she moved to a nursing home. Oksana told the RIA "Voronezh" correspondent why she decided to take this step, what other hardships she had to overcome and what helped her to stay optimistic.
"I am grateful for what I have"
The nursing home in Kashirsky District is modern. It is bright, clean, has no specific smell like in many nursing homes. But it is hard to be in the nursing home – there is a feeling of hopelessness in the air. A thin old man in a chair holding a cane is sitting in the corridor. An elderly woman in a wheelchair is sitting still by the window.
Photo – Yelena Minnibayeva
Oksana lives in a double room. Her neighbor, a bedridden old woman, is silent all the time. She occasionally wheezes slightly when the service staff straightens her bed.
There is a telephone, a small tablet with cracks on the screen, a Bible and decorative cosmetics on the table near Oksana's bed. Like any girl, she tries to look nice in any situation and put mascara on her eyelashes before the arrival of the journalists.
– I already got used to this environment. I don't really communicate with the elderly here, they have their own world, but I'm friends with the staff. I live here according to my routine. My friends, my goddaughter come to visit me. They can take me to any place I need. I read books on psychology, religious literature. I communicate with many people on the Internet. When it's warm, I go out and enjoy the sun. My life is not as bad as it may seem at first glance. I have learned to rejoice what I have now. After all, it is unknown whether you will have tomorrow, Oksana noted philosophically.
Oksana's life could be the basis for a dramatic film. Fate began to test her out starting from her infancy, when her mother left her at the orphanage. The girl lived for three years there. Then she was adopted by Anatoly and Nina Lyubochkins from Semiluksky District. They had a son, but the spouses always wanted a daughter and decided to adopt at a mature age.
Oksana with her adoptive father Anatoly Lyubochkin
Photo – from Oksana Lyubochkina's archive 
The girl was surrounded by love and care. The recollections of the orphanage were immediately erased from the child's memory, and her parents never said that she was a foster child. The girl learned about the adoption from the children who lived next door.
– There are always such "nice" people who need the most. Apparently, their tongues itched, they told their children about me, and they told me in turn. When my parents decided to confess, I already knew everything. I took it calmly, because parents are those who raised, not who gave birth. They gave me everything: they brought me to school, I entered the Forestry University. My dad pampered me more than my mom, always bought me toys. I always considered myself my daddy's girl, even looked like him. So, when he died, I could not come to my senses from grief for a long time, Oksana recollected.
"It took me some time to realize I wouldn't walk again"
After Oksana's father died, her mother's health started breaking down. The diagnosis doctors gave her was diabetes. To help her with medicine, Oksana switched to extramural education and started working. But in several years it was Oksana who would need her mom's help.
In summer 2011, the girl got in a car accident. The driver got off lucky with a bruised legs while Oksana's diagnose was spinal fracture.
– I realized that something happened to my spine even before the ambulance had arrived. I didn't feel anything: neither my body nor pain, although I saw pieces of glass sticking out of my arm. I remember that evening in detail. There were two of us in the car. The driver passed some car and lost control, we flipped over and hit a tree. I was pulled out of the mangled car by the driver we had passed. We were in a hurry for a disco that time. But we never made it, Oksana told.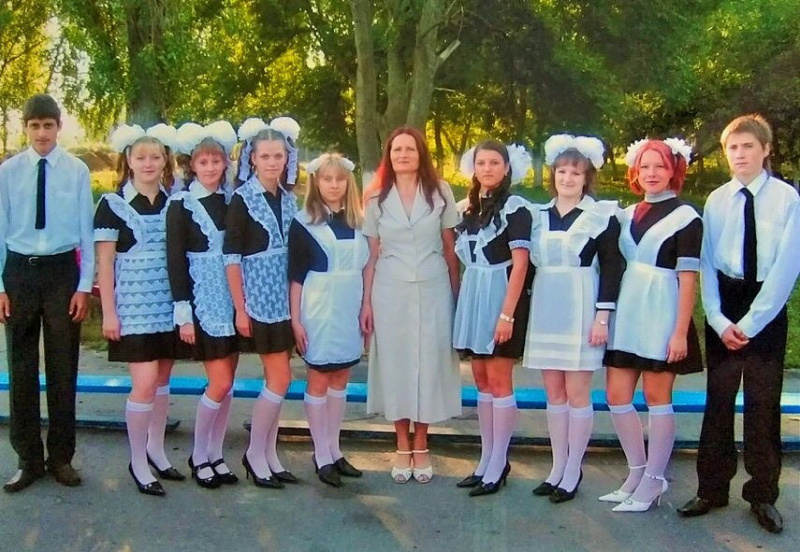 Oksana on the left of her teacher
Photo – from Oksana Lyubochkina's archive
Oksana realized that she wasn't going to walk again only a half-year after the accident. She took it hard. She had a bad case of depression, she was constantly crying and thought that there was no point in living anymore. What saved her at that point was faith.
– We have to endure the trials and tribulations that God has set for us. I stopped torturing myself over the past. Now I think only about the present, - the girls says holding a Bible.
After the accident, Oksana had gone through several most complicated surgeries. Thanks to medical help and exercises at the rehabilitation center, she managed to partly recover the mobility of her arms. Oksana was happy even to be able to hold a book and a cellphone, a spoon.
Her mother, who was over 60 at the time, took care of her for two years after the trauma. Her health was rapidly declining. Watching her close one get weaker before her very eyes, seeing how hard it was on her mother to take care of her non-ambulatory daughter made Oksana decide to move to a home for the retired and disabled.
Photo – from Oksana Lyubochkina's archive
– Mom was totally against it, but that's the way I am – once I set my mind on something, it can't be changed. My mother was already old and sick, I couldn't torture her anymore. So I moved to the retirement home. It was my conscious decision, and not once had I regretted it, Oksana said.
It was hard for a 23-year-old girl to get used to being around old people. What made it easier was staying in touch with friends Oksana had plenty of, over the phone and in social networks. Her mother also kept in touch all the time. It was the support of Oksana's close ones that helped her through another trial. Her left foot became covered with bedsores, the wounds began suppurating, and the treatment wasn't helping. The doctors said it had to be amputated. The girl mustered up all her willpower and agreed to it.
Photo – Yelena Minnibayeva
– I realized I could die from complications if I don't bring myself to it. And I want to live! I have plans for the future. My leg was cut off at the knee. I look at life philosophically. So what that I don't have a leg and I'm in a wheelchair. I'm still a living person. I think, I feel, I endure. Inside I'm still the same, Oksana insists.
A long-drawn streak of bad luck
In 2017, Oksana's mother died of cancer. At the same time, the girl underwent bladder atrophy, and in 2018 Oksana was emergently taken to a hospital on her birthday with peritonitis. During the surgery, her bladder was partly removed, and she had a catheter inserted.
The girl needs an expensive surgery to restore her urinary system. If it is not done in time, the situation will get worse. She also needs money for a nurse to assist her at the hospital.
– The treatment at the retirement home is fine, they do all that is needed. But the hospital is short on staff, and they can't give you the attention you need. And in order to avoid bedsores, I have to be flipped over, fed and cleaned every three hours day and night. The nurse's services cost from 1.5 to 2 thousand rubles a day, Oksana says.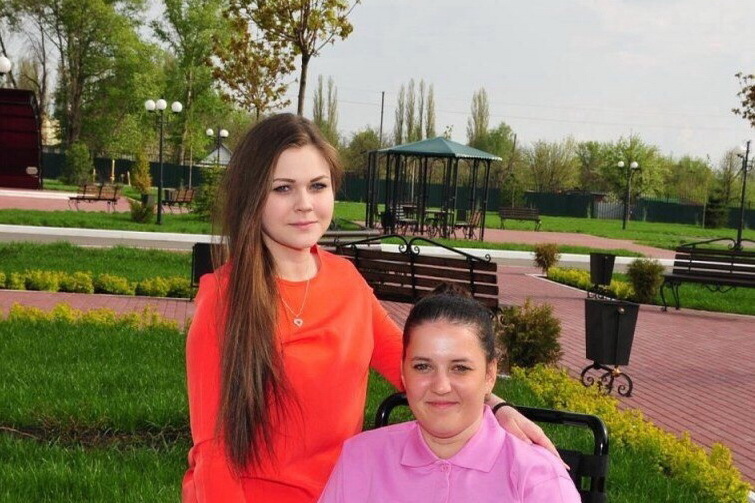 Goddaughter Anastasia – Oksana's only relative
Photo – from Oksana Lyubochkina's archive
Oksana feels awkward mentioning money. She's shamed to ask for it, but there's no other way. After all, staying at the retirement home costs 75% of her disability pension. Around 5 thousand rubles she has left is spent on medicine.
– There are many things I dream of. Some dreams are mundane, some are romantic. The first thing I want to do is to get better: solve the bladder problem, avoid bedsores, get a dynamic paropodium (a device that allows a disabled person to keep erect, train the muscles and ambulate independently – RIA "Voronezh"), but it costs approximately 200 thousand rubles, Oksana explained.
"I dream of having a family and children"
Despite the health problems, Oksana keeps her chin up. She sees herself as a married woman with at least two kids in the near future. She is also planning to remotely receive a degree in psychology.
– I really want to help people. I can't do it physically or financially, but I can help with words, which sometimes is the most important to a person. I have many friends, I make friends easily. I'm told that I have a gift of communication, and I want to use it for the good of others, Oksana Lyubochkina confessed.
You can help Oksana by transferring funds to her bank card № 639002139008901729. To contact the girl, visit her VKontakte webpage.
Загрузка плеера
© РИА Воронеж